It's back again and as popular as ever. We've found a few pubs that will be enticing punters in to to watch Cheltenham with the promise of free bets and food.
The Waterloo
They'll be giving out free Paddy Power bets throughout the week, as well as offering a draw for a free pint with losing dockets after every race. There will also be free finger food for all the race enthusiasts. They've got a range of craft beer, as well as the usual standards, and an excellent bar food menu.
They'll have an expert tipster in and there's a Paddy Power next door.
Cassidys
Cassidys on Wexford street will be quite busy for the festival and have a few things on offer. Free place pots every day. Free best every day. Champion tipster for the week on the 4 championship races. Complimentary food and drinks all week (We understand it's soup for lunch and stew for dinner). Free handicap sweepstakes every day, with free advice from 'The assassin'.
Dame Tavern
@publinie hey guys, we'll have some complimentary pizzas and hopefully a load of winners! Our favorite time of the year!

— DameTavern (@DameTavern) March 7, 2016
@publinie update – we also have 200 free €5 bets to give away during the festival when you order Guinness or Heineken! #winning — DameTavern (@DameTavern) March 8, 2016
The Dame Tavern is a cosy little pub and they'll be offering free bets and finger food.
The Boars Head

@publinie as normal supply racing posts, finger food and showing all races on the big screen #CheltenhamFestival #betbright cup

— The BoarsHead Dublin (@boarsheaddublin) March 8, 2016
  There's finger food, free racing posts, and all the races on the big screen in The Boars Head.      
Paddy Cullens    
Buy a pint of Guinness and a burger for €9.95 and they'll give you a free €5 bet.      
Kehoes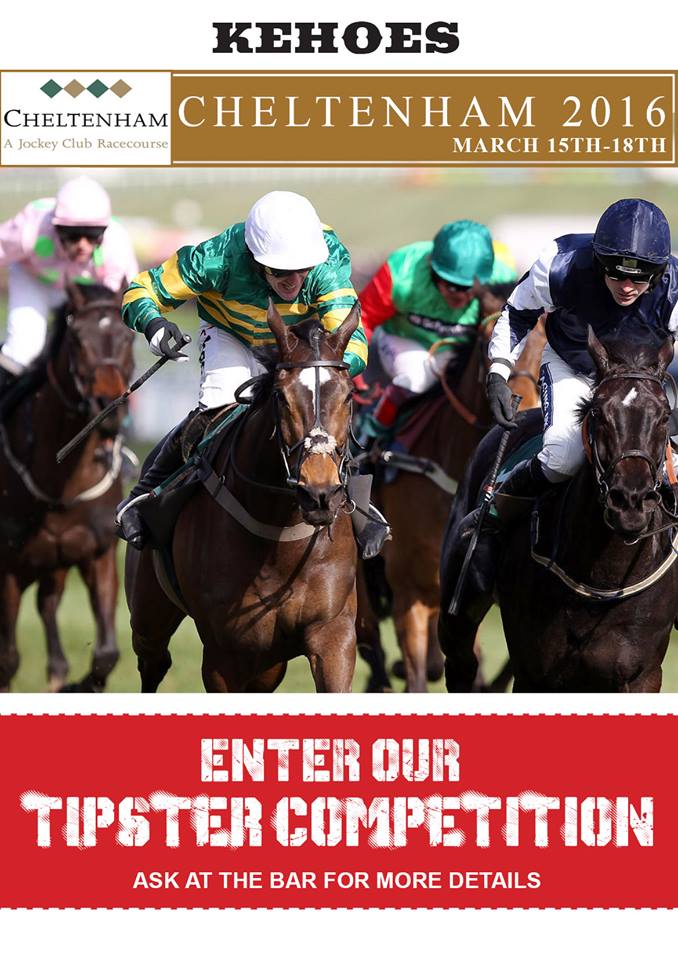 Kehoes will be having a tipster competition.      
The Green room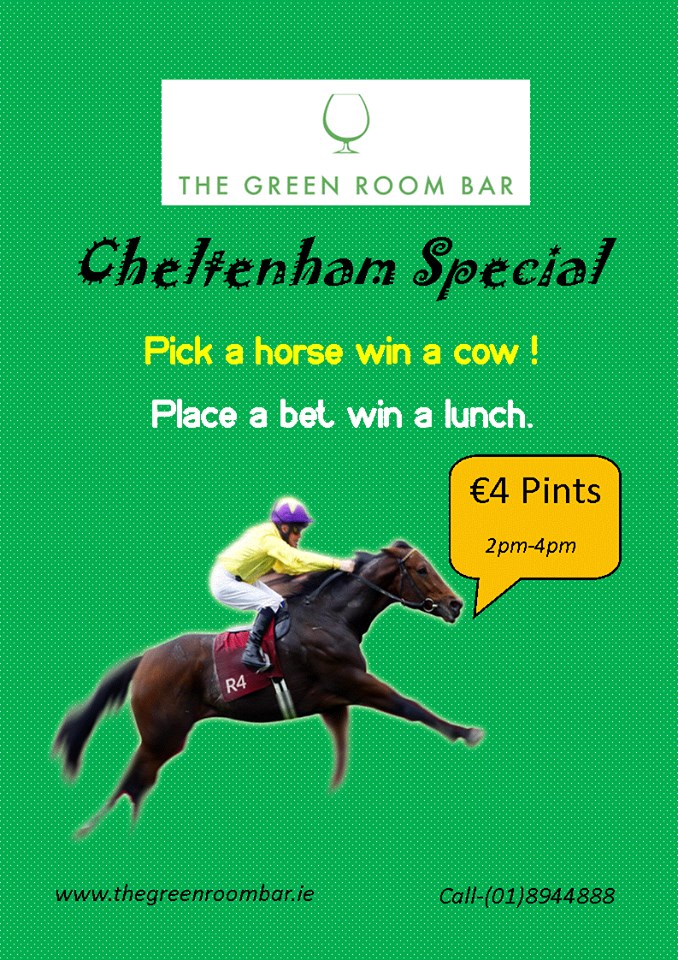 Kavanagh's 'The Temple'
Cheltenham Next Week, Check Out Our Race Specials! pic.twitter.com/NPTpiTptlM

— Kavanaghs The Temple (@kavthetemple) March 13, 2016
 Rody Bolands
Rody Bolands in Rathmines will be supplying free finger food and free bets.
The Chancery Inn
New projector and 7 foot screen all set for #Cheltenham.

— The Chancery Inn (@ChanceryInn) March 14, 2016
  Searsons  
Getting excited for Cheltenham here at Searsons- Looking forward to a great week ahead #Searsons#CheltenhamFestivalpic.twitter.com/BxapJqaFrp

— Searsons Bar Dublin (@Searsons_Bar) March 14, 2016
Mother Reillys
Eamon Rea's, Parkgate street
Bachelor Inn
The Lotts
'HORSES FOR COURSES ! Our Lotts Cheltenham special for lunch this week – if you are in before the 1.30 race each day and you have your main course lunch ordered before the race starts and one of our 2 horses selected wins , then we pay for your lunch !!! Check this page for our 2 horses each day ( Main course Lunch order must be in strictly before race starts )'
Lower Deck
DTWO
SINNOTTS