Sheehans on Chatham street have done a bit of a renovation on their upstairs bar. It used to be used as overflow for the other bar or for some singer/songwriter gigs. Now, they've turned it into a specialised whiskey bar.
The Palace on Fleet street did something similar in recent years and it has proved to be a very popular addition.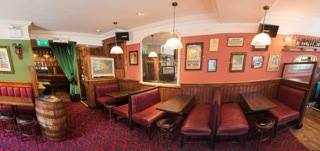 Sheehans are giving people the opportunity to buy a whole bottle of whiskey and have it stored in their own personal locker at the bar so that you can keep coming back to enjoy it until it's all gone. You would have assumed that a service like this would only be available in exclusive clubs. Such is the popularity of whiskey these days that the demand from whiskey drinkers is there to justify lockers like these.
It might be a good gift for a friend visiting Dublin, or maybe for a relative for a birthday or Christmas.
Aside from the lockers, you can sample some excellent Irish whiskeys neat, in a cocktail, or even in an Irish coffee.