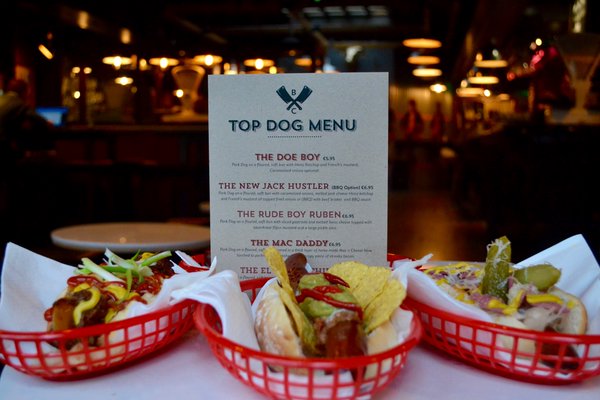 For a while now the trend in Dublin pubs for someone wanting a quick bite has been the pizza. Well, things look set to change, in the Bull and Castle Butchers bar at least. They have got a new New York style hot dog vendor cart in to satisfy those who can't wait.
It's not all about the look and the convenience though. The bar is owned by the best butcher in Dublin, F.X. Buckley. This means that the meat is locally sourced and made, ensuring a far superior product that what you might imagine.
The selection includes 'The Doe boy', ' The new jack hustler', 'the rude boy ruben' , and 'The Mac Daddy'. Some of the toppings include melted cheese, tortilla chips, slowed cooked meat, pickles, chillis, and the traditional condiments.
The dogs runs at about €5.95- €6.95, but you can avail of their Buckleys ale and hot dog fro €10 deal.
These dogs look like a very welcome addition to the Bull and Castle and will sure to become a draw of their own.
The cart serves after 5pm Mon-Fri and after 2pm Sat and Sun.