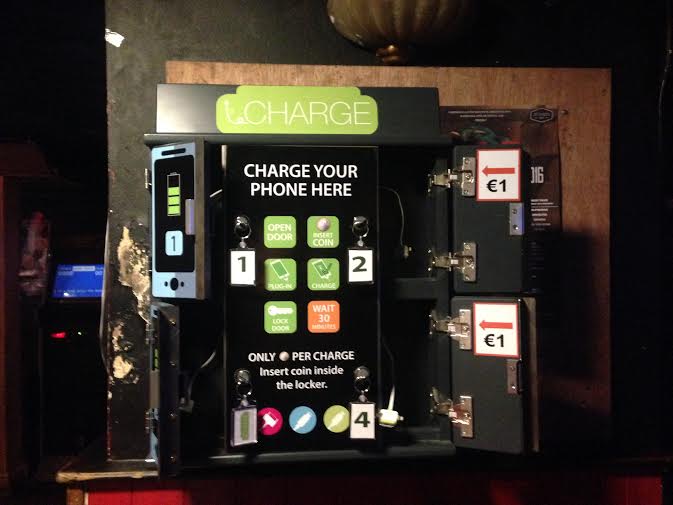 We've been hoping for a phone charging solution in Dublin pubs for the last few years now. We even suggested that pubs might buy some cheap chargers and cables, and leave them in sockets around the pub. It could be very handy.
At the moment, your best chance is to leave the phone in behind the bar with the bar staff. Although, sometimes you have to provide your own charger, and you can't look at your phone as it charges. The phone is probably very safe behind the bar, but you'd probably still like to have it on you.
Some of these problems seem to have been solved with phone charging stations that we've seen in 2 pubs, The Long Stone and Murrays. Although you won't be able to see your phone while it charges, it will be locked safely in a box while it charges at a cost of €1 for 30 minutes.
The machines also have all the chargers and cables you could need. Until we get a pub with loads of usb ports dotted around the bar, this will have to do. Some would even say that the smart phone has no place in a Dublin pub and that it takes away from the conversation.
In the Mercantile on Dame Street they have a machine that sells portable chargers, which is a bit difference from this charger locker.