Usually when you're looking for a quick bite to eat in a pub you might for a pizza, a toastie, or the old reliable soup and a sandwich. There's a much more filling and tasty option available in a lot of pubs around the city centre. Chowder. We are an island nation after all, so we really should have a bit more fish in our diet.
Seafood chowder is quick, filling, and absolutely delicious. It's also usually inexpensive as well. Seafood is said to be excellent when paired with a stout, so maybe have yours with a Guinness or a craft stout. Here's a few options for where to get your chowder fix.
Oscars Smithfield
Oscars rightly call their seafood chowder a 'meal in itself'. They cook it from scratch and serve it with a side of bread for €7.50
Trinity bar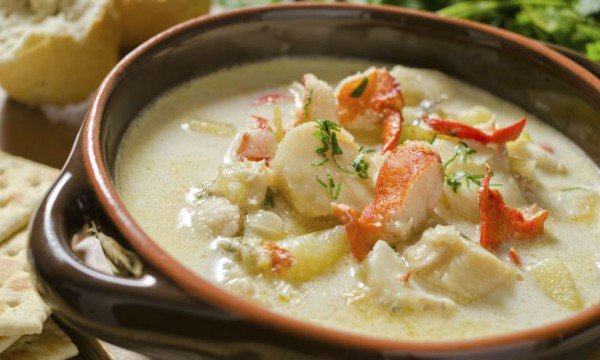 Trinity bar have a main course chowder that comes served with Guinness brown bread. It's relly central, straddling Temple bar and Dame street. €10.50
Searsons
Searsons refer to theirs as 'Searson's famous seafood chowder', so it better live up to the self-hype! It comes with homemade Guinness and treacle brown bread for €9.00
The Bank
The Bank on College Green, aside from being a spectacular building, also serves some of the best food in the city. They've got a seafood chowder for €8.00.
The Bridge 1859
The Bridge in Ballsbridge has one of the best chowders we've had. Their sauce is more of a tomato bisque.  It comes with croutons and brown bread for €8.00.
JW Sweetman
At €6.95 Sweetman's chowder is one of the best value on this list. It's best enjoyed with a pint of one of their craft beers and a view of O'Connell bridge.
The Waterloo
The Waterloo chowder has smoked haddock, clam, pea, and leeks with brown bread on the side for €7.50.
The Bankers
At €5.50, The Bankers chowder is the best value to be found on this list. We're big fans of the pub and we're happy to see tourists going in here and getting some good quality Irish food.
Merchants Arch
The helping in Merchants Arch looks healthy enough and it's all yours for €7.95.
Porterhouse Temple bar/Nassau st
They serve up some excellent beers, and the food isn't too shabby either. Their chowder goes for €8.00.
Arthurs
Arthurs on Thomas street does a good trade with tourists on their way back from the Guinness Storehouse. Their chowder consists of Atlantic Salmon, Boston Prawns , Smoked Haddock, Cockles  & Mussels in a Creamy Broth , Served with chefs brown bread , butter  for €8.95.
Murrays
'Tender morsels of the finest Irish seafood bound in a light veloute.' €9.95
The Old Storehouse
 Ryans, Parkgate street
Creamy seafood chowder with homemade brown bread €7.25
Nancy Hands
Nancy Seafood chowder €8.00
As always, if there's a chowder that deserves to make this list, send it on and we'll include it.