Here's a few ideas for the week ahead
Go on a Publin Historical Pub Crawl!
We're hosting our second Historical Pub Crawl this week. We take you around 4 of Dublin's most exceptional and historic pubs. The night will be part walking tour, part pub crawl, where we give you a primer in the importance of the pub as a historical icon of the city, before we all spend the rest of the time enjoying the drinks, décor, and atmosphere that makes the Dublin pub what it is.
The crawl is €15 per person. More details and tickets can be found via Eventbrite.
Learn the bodhrán with Rónán O'Snodaigh
Bodhrán lessons with Mr. Rónán Ó Snodaigh, every Tues starting Sept 5th @ The Upstairs 6-8pm. Sugges donation €10. Bring your own bodhrán! pic.twitter.com/qLZzz2RFcr

— MVP (@mvpdublin) September 2, 2017
Here's an opportunity that doesn't come around too often. Learn an instrument with one of the best in the world in a Dublin pub. Rónán O'Snodaigh of Kila will be teaching bodhrán upstairs in MVP on Clanbrassil Street from Tuesday the 5th of September from 6-8pm. There's a suggested donation of €10.
Try the new Women's Night in The Barbers
The Barbers in Grangegorman are hosting a new sort of night on Tuesdays. It's a Women's night that they're describing as:
'A social evening for women and friends who may be seeking friendship, a relationship or just a good old chat along with live music, poetry, games, comedy and more. Each week we will add something new and you never know open mic too.'
Visit the Little Museum Dublin Pub exhibition
The Little Museum of Dublin on Stephen's Green has a temporary exhibition relating to the history of the Dublin pub. They tell the story of the Dublin pub on the walls of the museum through photographs and exhibits. It's a great experience and only €10. Link.
Get a charcuterrie board in The Bull and Castle
There's few finer experiences than having a tasting board of craft beers accompanied by a selection of meats curd on site. Bull and Castle is owned by the FX Buckley family, who have been butchers for several generations. That means you're getting a good cut here. Add to that a beautiful view of Christchurch out their window and you've got a very pleasant evening on your hands.
Try a whiskey of the week
The Long Hall whiskey of the month if Powers' John's Lane release. It's a 12 year old whiskey, and they're selling it at the very good price of €8 in this fine Victorian era pub.
See 'Left, Right, and Centre' in Frank Ryan's
Frank Ryan's in Smithfield really gets going on Thursday nights. For years the band 'Left, Right, and Centre' have been coming here and playing exceptional covers of blues and rock'n'roll. It's a smashing pub and the atmosphere when the music is on is superb. They start at 9.30.
Get yourself a beer and a pizza and play board games in The Beerhouse.
The Beerhouse at the top of Capel Street has been a great spot for craft beer for a few years now. They've got deals on pints and pitchers with a pizza, and they've got a good selection of board games. Sit around the table and challenge your mates over grub and drinks.
Get 20% off your food and drinks on Monday and Tuesday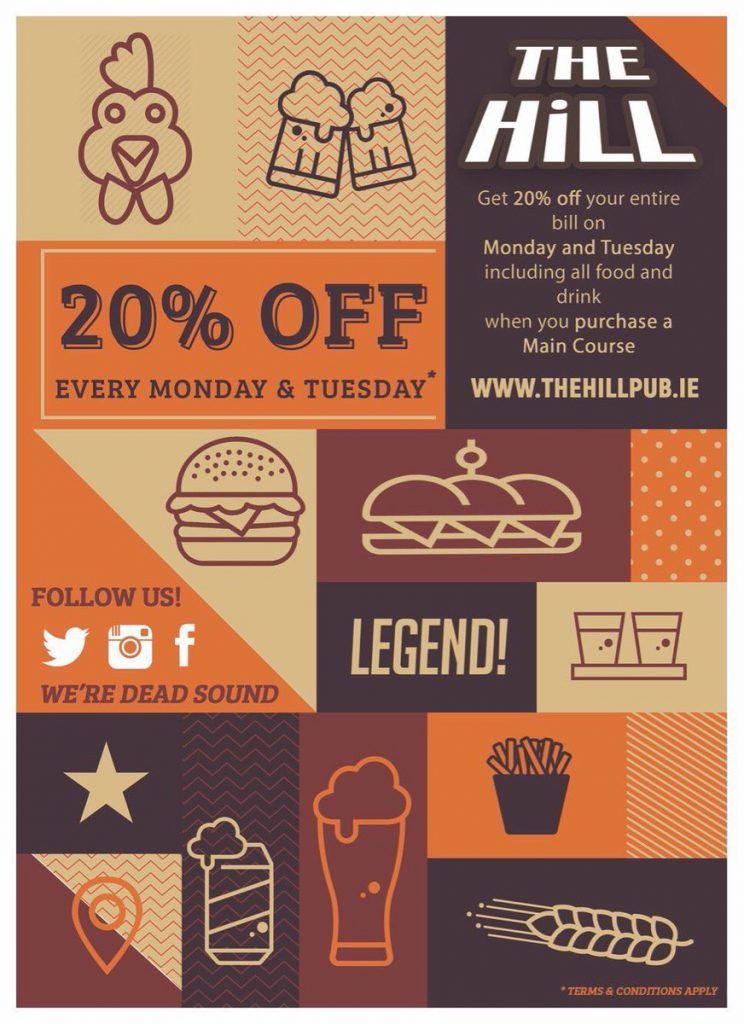 The Hill in Ranelagh have an excellent offer giving you 20% off your bill on a Monday or Tuesday night. They're known for their craft beer, excellent gin selection, and the food is superb too.
Watch the NFL in a Dublin pub
There are 8 pubs showing all of the NFL action live. You can choose from Buskers On The Ball, McSorley's Ranelagh, The Living Room, The Back Page, The Woolshed, The Adelphi. It's a great atmosphere with American and Irish fans.