Buskers on the Ball
Buskers On The Ball is below Buskers on Fleet Street, Temple Bar. This is certainly a unique bar in the city, offering as it does the opportunity to play a range of sports such as table tennis, pool, and shuffle board, while also screening all big sporting events such as football, rugby, boxing, wrestling, and whatever you're having on a number of screens, including one massive long screen behind the bar. They've got a good range of premium spirits, and all pints and bottles are €5 Monday to Wednesday. That's not exactly what we'd be used to paying in Temple Bar. You can also book for groups on those days and get free finger food. Website.
The Living Room
The Living Room on Cathal Brugha street has several huge projector screens on the wall, complemented by dozens of other small (yet still big) tv screens around the bar inside. They've also got a massive beer garden area that occasionally has tiered seating and always has big screens for soaking up the sun and atmosphere. They screen just about anything you can think of and they have  continuously updated listings on their website. They've also recently added the pizza shack outside, serving up fresh wood fired oven baked pizzas.
Trinity bar
Trinity bar on Dame street is probably the most centrally located sports bar in the city, making it a very handy spot indeed. They're the official Liverpool supporters bar in Dublin, but of course they show the matches of every club. The downstairs is now a purpose built sports bar with multiple screens. They have the biggest ultra HD screen in the city and around a dozen more screens around the bar. They've played host to legends of the game like Ronnie Whelan, Paul McGrath, Alan Kennedy, and John Aldridge in the last year, who have fielded questions and mingled with the crowd on some of the biggest nights in football. Their basement area caters to sporting events of all types, but typically they're big on football and rugby.
McGowans
McGowans of Phibsboro is a nightclub by night, and a sports bar during the day and evening. They're best known for the football and GAA, drawing in large crowds after games in Croke Park. They have some food and drink deals that run for big match days, so be sure to keep an eye on their social media for them. If it's football, GAA, or the rugby World Cup, they'll have it on their screens. Best of all, they have a late license 7 nights a week, so there's no need to head elsewhere after.
Murrays
Murrays bar on O'Connell street is well known to fans of Celtic, Aston Villa, and other supporters groups that call this pub home. They've got plenty of screens, plenty of food, and a great atmosphere on match days. Stick around after the match for live traditional music and a sing song. Similar to the Living Room, they've also got a large beer garden, and they update their website with all the live matches. Link.
The 51 bar
If you're on your way to a match at the Aviva, chances are your route will bring you past the 51 bar on Haddington road. On match days they do a flying trade, and the rest of the time they'll be screening all the big matches on their screens inside. They do an excellent meal deal that gets you a pint of a beer of your choice with a main meal from the evening menu for €12. They also do a selection of beers for €4.
Woolshed
The Woolshed Baa (get it?!) is a colossal sports bar on Parnell street beside Cineworld cinema. It's a great place to meet the expat communities living in Ireland. They congregate for league games from Brazil, Italy, Spain, Mexico, and all over the world. You know the drill at this stage of the article… lots of screens, pitchers of beer, food deals, and more. If you're in for a match mid week, stick around for their karaoke on Thursdays and the pub quiz on Tuesdays.
Sinnotts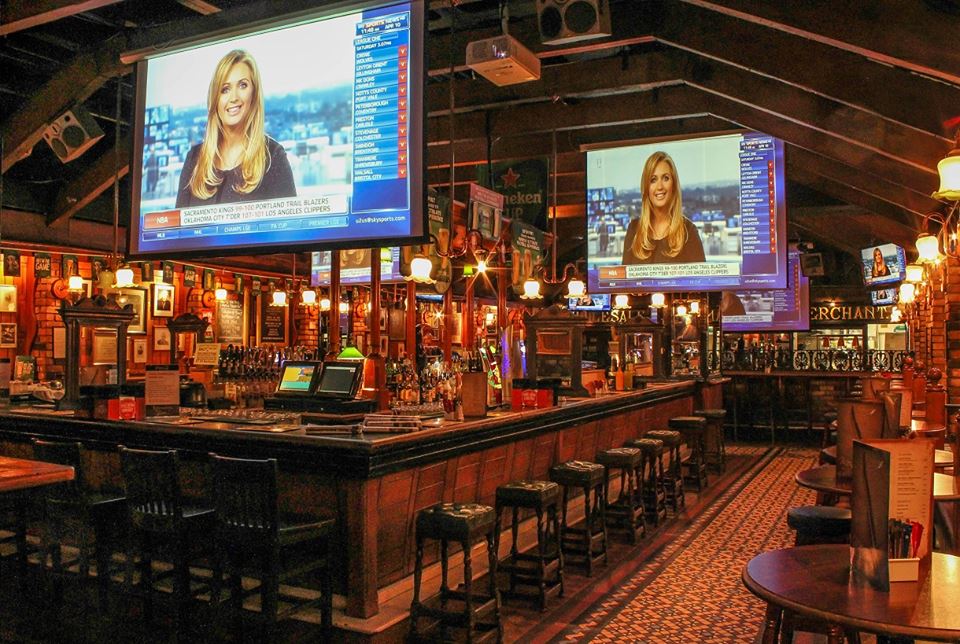 Sinnotts bar beside Stephens Green is a long established sports bar in a convenient location. They have a massive projector screen at one end of the bar, and several more TVs dotted around. Handily enough, they have a screen right outside the pub which often attracts the attention of people passing by, checking the scores during their shopping trip. If you're one for cocktails, they do 2 for €6 Thursday 6-8, Fridays 6-9, and Saturdays 8-10.
Bleeding Horse
The Bleeding Horse on Camden street must be the oldest bar on this list, dating back at least to the 50s (sometimes under different names). That gives it the feel of a more traditional pub, despite being quite a large space. There's several large projector screens and many nooks and crannies to park yourself for 90 minutes with some craft beer or one of their food and drink specials. They've got a small beer garden, but it can get some sun, and gives you a good view of one of the screens inside.
DTwo
DTwo on Harcourt street joins The Living Room and Murrays in having one of the best beer gardens to watch live sport on their 20ft screen. During the summer they've had a big BBQ out there, and that will likely continue into World Cup season. They've got 20 screens indoors and stadium style seating that seats up to 400 people, which affords them the opportunity to screen multiple games and to cater for really big crowds.
The Back Page
The Back Page in Phibsboro are trying to reinvent what we think of when we hear 'sports bar'.  They've got an astro turf beer garden/smoking area, a tiny room for playing fifa on the PS3, table tennis and darts, and beer mats with football trivia on them. It's a great new addition to the area and caters for sports fans and non sports fans alike. They've got a very nice selection of freshly made pizzas here, and they theme some of them around big sporting occasions.
The Square Ball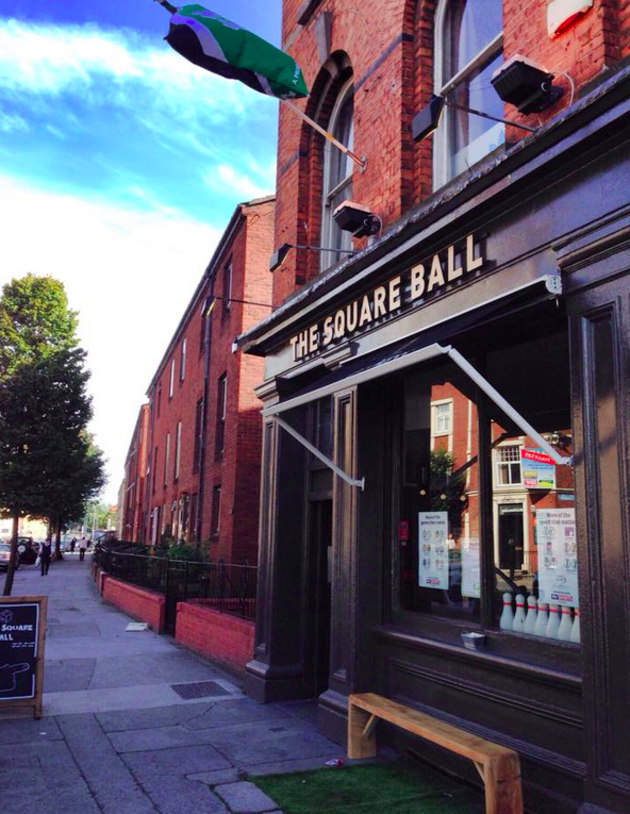 It's the sister pub to the aforementioned Back Page. The Square Ball follows much of the same script as The Back Page, with a new attitude to what a sports bar should be. They have a games room upstairs with table tennis,darts, and computer games. The downstairs has a projector screen in their astroturfed screening room. The rest of the front of the pub looks much as it did in its prior incarnation, save a few items of sporting memorabilia.