JK Stoutman's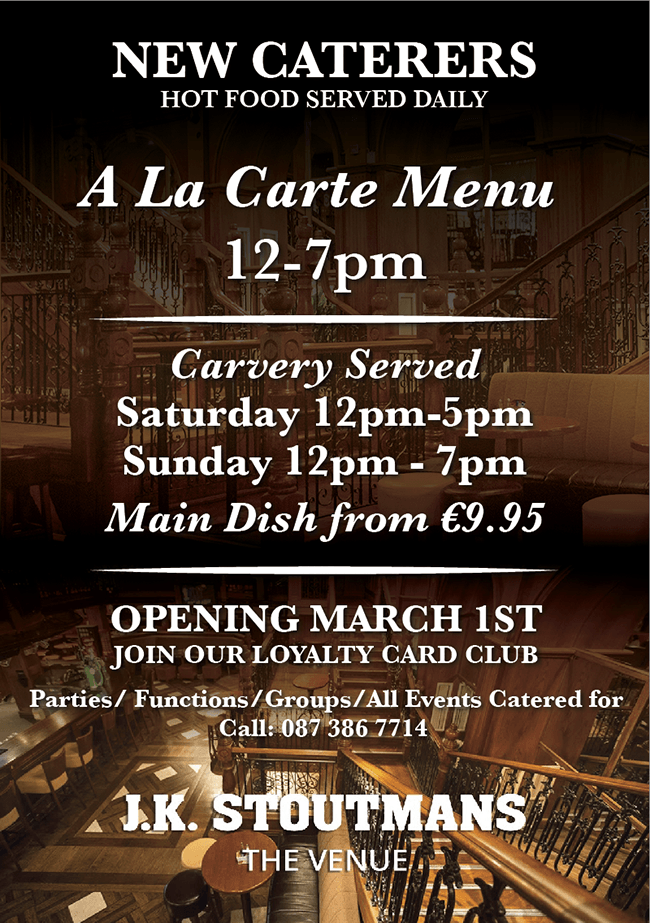 JK Stoutman's on James Street is a good option if you're coming from the Luas at James' St or the from Kilmainham direction.
They have a number of starter or snack options such as bruschetta, chilli nachos, BBQ chicken wings, and toasties. For mains there are some Irish favourites such as beer and Guinness pie, bacon and cabbage, and Irish stew. The rest of the menu is rounded out with other pub favourites such as lasagna, chicken curry, roast of the day, and the catch of the day. The mains start at €9.95.
If you're looking for something a bit lighter, they have wraps, sandwiches, and toasted sandwiches.
The a la carte is served 12-7pm daily. At the weekends they have that sought over combo of the carvery and live sports. The carvery is served from 12-5 on Saturday and 12-7 on Sunday.
The Malt
The Malt is increasingly becoming a good spot for tourists on their way to and from the Guinness Storehouse. Their prices aren't too bad either, with most dishes coming in at around €8.00 or under. They serve a full menu until 4pm on weekdays.The Malt House is on James St,near the Luas.
The pub was actually mentioned in James Joyce's 'Ulysses', so you can dine in a site with literary history.
The Sunday roast is very popular here. It's €8.95 and you can add soup for an extra €2.00. They do a selection of sandwiches, smoked salmon on bread, full Irish breakfasts, burgers with mash, and a whole host of other options. You can find more details via their facebook.
Ned O'Shea's Merchant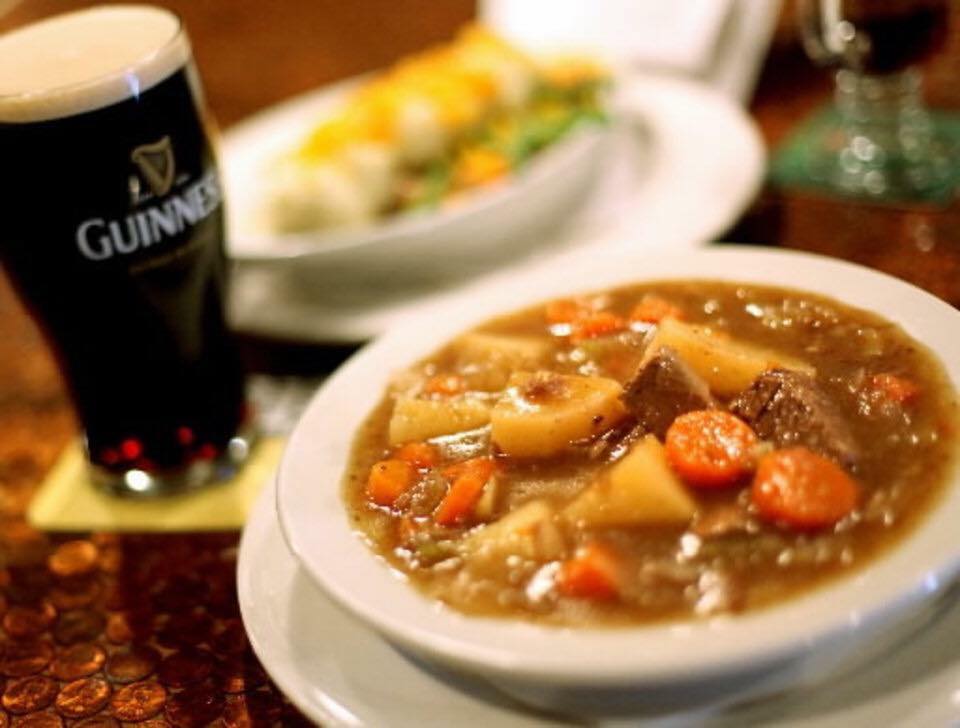 O'Shea's is located on the banks of the River Liffey, around 10 minutes walk from the Guinness Storehouse. This is a good option for when you're approaching from the city centre. They're well known for their good quality cuisine, including full Irish breakfasts served from 8.00am. Their lunch and evening menus have a selection of roasts, sandwiches, curries, and generally good pub cuisine.
They also do a number of food and pint combination deals, such as a pint of Guinness and Irish stew for €10, or smoked salmon and Guinness for €10, and a club sandwich and Guinness for the same. The times for these deals vary. If you're going after your Storehouse visit, then you might as well stick around here for the live trad music. You can see their full menus on their website.
Arthur's
Arthur's on Thomas Street do a very good selection of food, as well as Irish craft beers. Here's you can get a lunch menu of sandwiches and wraps, as well as chowder, soup, and salads. For mains they do some traditional Irish dishes such as stew and casserole, as well as fish and chips, and shepherds pie. You can see their menu in full on the website.
The Beer market
The Beer market has an amazing selection of Irish and international craft beers on constant rotation. They also have some decent menus that include burgers, sandwiches, wraps, fish and chips, steak, and wings. You can see the full menu on their website. They have a number of regular meal deals, including a steak and bottle of wine promo. Consult the website for more details. The Beer market is on High Street, which is very close to Christchurch.