Last Thursday we put together a Pub Crawl taking in 4 of Dublin's newest pubs. We (John and Luigsech) guided a group of 14 people, giving them a bit of history and also exposing them to some new pubs that they had never considered before.
As the 4 pubs we were visiting were all new and didn't have too much written about their history, we took it upon ourselves to pay a visit to the National Library in advance to see what we could find out. It makes for a more interesting tour if we can give people information that isn't available publicly elsewhere.
Jimmy Rabbitte's, Camden Street
Our first stop was Jimmy Rabbitte's on Camden Street. This wasn't our first times here, as we'd visited several times when planning the pub crawl. It's kind of a vintage speakeasy style bar, but with the modern touches of very high definition TVs around the bar. They have Dublin's newest snug that has a great view onto the street for a bit of people watching.
We usually give people a few recommendations on what drinks they might like to try in each pub. For Jimmy Rabbitte's we suggested maybe trying something from their extensive gin collection.
The building in which the pub is situated was once a cinema, built in 1912 and expanded in the 30s. It was sold to Gael Linn in the 70's when their intention was to create an Irish language theatre. That fell through and it became Ricardo's pool hall. A floor was built to separate the cinema auditorium, creating two areas. Both of these areas can be seen in the movie 'The Commitments' during the rehearsal scenes. It's from this movie that the pub gets its name, Jimmy Rabbitte being the central character and the band's manager.
They pulled out all the stops for us in Rabbitte's by bringing out more food than we could finish from the Pitt Bro's kitchen that is located in their beer garden. That food wqas absolutely sensational. BBQ food is the perfect accompaniment to a few drinks, and certainly lined the stomachs of 15 people about to set out on a pub crawl. The BBQ bowls are huge portions and are really good value at €8.50.
Camden Street has no shortage of pubs, but Rabbitte's has to be a welcome addition, especially owing to their BBQ food, beer garden, snug, and premium drinks selection.
Bourke's, Wexford Street
Our next pub was barely a minute's walk away from Rabbitte's. We crossed the boundary of Camden Street down to Wexford Street to test out Bourke's Bar.
We stopped on a corner beside Ryan's and Whelan's pub to let people know a bit of what we had found out about the location. There has been a pub on this site since around 1772, but we concentrated on more recent history. There once was a pub called Bourke's here dating from the 1950's, but it was actually where the Whelan's main bar is now. Stephen Bourke bought the pub from the Gilligan family in 1952 for the price of £7,770. The Gilligan's had run the pub for around 50 years prior to that.
Stephen Bourke sold the pub in the late 80's to Gary Whelan, after whom the pub is still named. He maintained the pubs reputation as a live music bar until he sold it on to Frank Gleeson and The Mercantile Group.
One reference we found to the pub in the newspaper archives was from a 1986 advert for Carling lager stating that the beer was available in Bourke's at the time. Times have changed considerably and Bourke's now proudly stock only Irish produce, and mostly craft and artisan producers.
They've got a great selection of Irish craft beers, whiskies, and gins. They even have an Irish rum! You might be brought back to your school days by the mini bottles of cadet soft drinks that can be used as a mixer. Here we recommended their beer tasting trays and gin and tonics.
Once everyone had gotten themselves a drink we took over most of the room at the back of the bar. Bourke's doesn't have any music playing, as it's intended to be a haven away from the musically focused Whelan's next door. It's a nice change of pace if that's what you're looking for.
Underdog
On Dame Street we stop opposite Brogan's pub. Downstairs in Brogan's is Dublin's newest craft beer bar, Underdog. Many, including myself, would only have known Brogan's under that name, but through our research we found many others. It was, at various times, J.C. Kerrins, The Crampton Court, Leonards, and The City Hall Inn.
In a book from 1969 called 'Dublin pubs of character' it's mentioned that Leonards (as it was then) was known to have a tunnel running underneath the pub from the basement, under Dame Street, and up to Dublin Castle. There are plenty of rumoured tunnels under the city, but this one likely refers to the Poddle river that runs in that direction, sometimes flooding pub cellars along its route.
In an advert from the 70s when the pub was put up for sale it is mentioned that the apartment above the pub are a lucrative source of income for the owner. The article states that they provide a good if somewhat irregular income owing to the fact that they were used by performers visiting the neighbouring Olympia Theatre. Who knows what stars have stayed above Brogan's at one time of another.
Another 1993 advert for the sale of the pub mentions that there is a full cellar bar on the site. That cellar bar has now been transformed into 'Underdog', a pub with rotating craft beer taps.
When we arrive the pub is in full flow following a Trouble Brewing tap takeover. We join the atmosphere, adding a few more bodies seeking to try new beers. Though busy, the atmosphere was good and nobody ever felt uncomfortable. Quite the contrary in fact. Several people were very taken by the choices on tap, and everyone seemed to have a different beer.
Piper's Corner
We wanted to finish our pub crawl with a bit of live music. Lucky for us, Piper's Corner on Marlborough Street opened recently and they have nightly trad sessions.
You might remember this pub as 'Sean O'Casey's', but it's barely recognisable today. Music is very much the focus here, as you might tell from the massive mural of Seamus Ennis on the side of the building.
When digging into the history of this site we found that Marlborough Street once had 16 pubs. There now 4. The oldest mention we could find of this bar is from 1890 in an advertisement looking for a maid for a hotel on this site. In the 1930's in was known as Scott's. In the 50's the pub was owned by James Moran. We know this because there's a report about a robbery in the pub. The assailant was apprehended outside the nearby Pro Cathedral.
Following that it was owned by James Bohan. It was called Bohan's, and then the High Tide. It was so-called as the Bohan's also owned The Flowing Tide down the road on Abbey Street. When Mr Bohan passed away in 1973 the two pubs and 3 others around the city (one on Meath St, One of Wexford St, and one in Ballsbridge) were all closed as a mark of respect).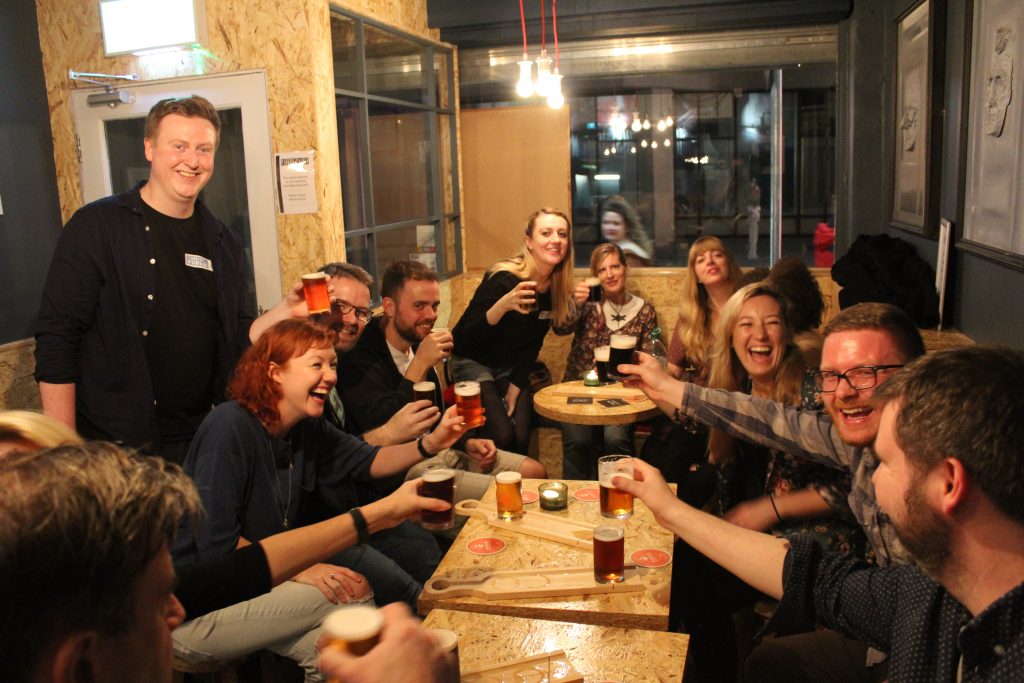 We walked inside to a welcoming atmosphere of chatter, live trad music, and a few tasting trays of 5 Lamps beer. You can't ask for more than that. We had some great seats around the other side of the bar and at this stage of the pub crawl, 4 pubs in, everyone is best mates!
As the icing on the cake of a great evening, we bumped into Yuya Abe, who is well known around the city as 'The Japanese guy trying to visit every pub in Dublin'. We had talked on facebook quite a lot, so it was great to finally meet in person and talk about pubs for hours! For anyone wondering, he's completed 630 pubs now. He's still got a few hundred to go, but he's making good progress.
It was a great night with a very friendly group. We really enjoyed ourselves, and we're pretty sure everyone else did too. Hopefully this goes some way to capturing the atmosphere of the pub crawl and the work we put into them to make them successful and enjoyable for all concerned.
We're available to book for bespoke pub crawls or varying themes and routes for corporate groups, or anyone with something to celebrate. If you want more info or to check our availability, email publinpubcrawls@gmail.com