Often times you find yourself and a group of friends meeting up for pints for not so big occasions. It can be hard to find somewhere for smaller groups that feels right for the size of your group. One table isn't enough and 2 feels like you're too spread out. There's a few pubs in town with areas that you can all sit around and share a conversation together without having to split up into smaller groups.
The Rag Trader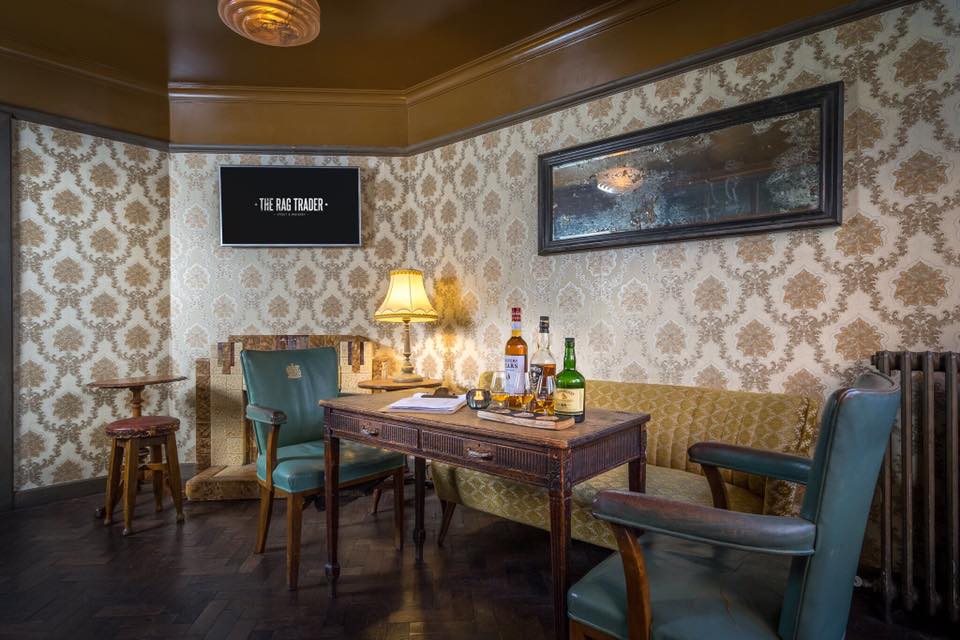 The front room of The rag Trader on Drury Street is a reproduction of a 1970s/80s typical Irish living room. There's a few chairs and a couch you can assemble around the classic living room table. It's a deadly little spot where you could easily fit 10 people. During the winter they have a fireplace, so it's extra snug.
The Swan
The Swan on Aungier Street has an area at the back where you could amalgamate some tables and chairs to suit your group. It's a quintessential Irish Victorian pub that is as traditional as it gets. You're guaranteed to find a creamy pint of Guinness here and you can get a toastie to keep you going too. During the winter the fire will be blazing and the tv comes on for major sporting events, especially rugby.
The Old Storehouse Snug
#TheSnugBar Private Hire Email: reservations@theoldstorehouse.ie for further details pic.twitter.com/owZm3VbJhP

— The Old Storehouse (@theoldstorehous) November 16, 2016
The Old Storehouse on Crown Alley is well known as a great spot for visitors to the city to sample some upbeat traditional music and some really good grub over 3 floors and 2 bars. They also have another bar near the main entrance known as their snug bar. It's a pleasantly small offshoot of the pub where you can take a minute to yourself.
There's a snug within the snug, which has a window onto the street that you can open on hotter days. It's an ideal spot for a small group to sit and stand around and maybe sample some of their whiskey collection (which the staff will happily talk you through).
Ruin Bar
Ruin Bar on Townsend Street has multiple areas around this huge bar that you can fit groups.. Some of their tables are raised and large enough to fit 10 people around them comfortably. They've got a great selection of craft beers, premium spirits, and food. They've also got a lot of TVs, so it would be a good spot to watch sport.
The Lord Edward
Upstairs in The Lord Edward is the definition of cosy on a winters day and it's just as charming during the summer. In winter the fire will be on, in summer the windows open for fresh air to get in and to offer you the opportunity to look outside onto Christchurch Cathedral.
As you walk in, there's an area in the left top corner of the room where you can fit a group of 10 sitting in a curve around tables. The staff here are lovely and the surroundings make you feel like you're sitting in living history.
The Barge
You can take your pick of areas for small groups in The Barge on Charlemont Street along the canal. Our suggestions would be on the first floor and to the left where there's seats running around the wall, offering you a small area to yourselves. If you have a few more heads on the way you might consider booking the loft space upstairs which is away from everyone else in the pub.
Mulligans James Joyce Room
There's a room at the back of Mulligans on Poolbeg Street known as 'The James Joyce Room'. It's so called because a scene from Joyce's 'Counterparts' is set there. The room has a large table around which you could fit a small group. It's a wonderful spot for a pint of Guinness and they've got a decent selection of craft beers on tap too.
Make sure to nab this room early as it can be very popular.
McGrattans Snug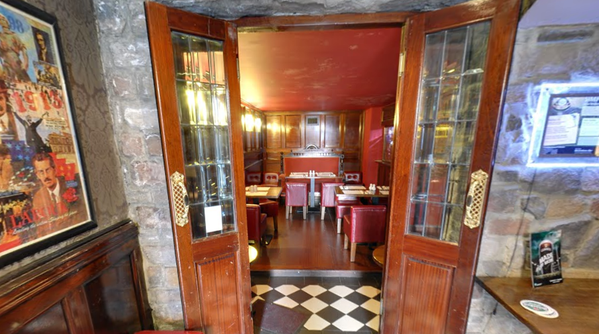 McGrattans pub on Fitzwilliam Lane off Baggot Street has a wonderful snug area to the left as you walk into the bar. It has a hatch into the bar and a door you can close for privacy. 10 people in here is optimal and might be a good shout for a board game.
JW Sweetman's mezzanine
JW Sweetman has 4 floors of bar and space, and while that might make it sound huge, it's laid out so well that you never feel crowded. There's one spot in particular that we sometimes bring people on pub crawls that we know as the mezzanine area. There's 2 of them on the 1st and 2nd floors by the bar in a raised area that looks over the staircase. They're cool semi-private areas where you can enjoy the company in friends in peace.
O'Neill's Snug
The snug in O'Neills on Suffolk Street is the 2nd pub on this list to have featured in Joyce's short story 'Counterparts'. The snug here is on the bigger end of the scale when it comes to the classic Victorian style. There's enough space to fit a gang of 10 into this very popular central spot. Not only do you have privacy, but you have your own direct line to the bar staff at your own hatch.
The Royal Oak Small Room
This one is a bit further out than the other spots on this list, but it's worth a trip. The Royal Oak is a nooks and crannies type of place and this extends to their room at the back of the bar. Like others on this list you get complete privacy and direct access to the bar. It's a room all on its own in Dublin pubs.
Street 66
You might require it to be a weekend night in Street 66 to avail of this cosy area, as it's in the back section of the Parliament Street bar. There's curved couch seating for a small group and you can add seating around the other side of the table with a few chairs. The pub is known for being dog friendly, LGBTQ friendly, and for its gin offering.