Con Houlihan was one of Ireland's best known and well respected  sports writers of the last century. He wrote eloquently detailed articles about a range of sports for the Irish Press, Evening Press, and Sunday Press. It's no secret that a lot of his time was spent in the various pubs of Dublin. Some of these pubs have chosen to posthumously honour his patronage in the form of art work, including busts, statues, and paintings of the noted author.
The Palace
The Palace Bar on Fleet Street has a long connection with literature and writing, being as it was the home of many journalists and editors of national newspapers, including the Irish Times and The Irish Press. Among those writers that frequented the pub that are today celebrated is Con Houlihan. In the snug on the ground floor you can find photos of Houlihan alongside Flann O'Brien, Patrick Kavanagh and others. Behind the main bar is a bust. Upstairs in the Palace whiskey bar is a more prominent mural of Con.
Doheny and Nesbitt
Doheny and Nesbitt on Baggot Street is another pub with a strong association with journalism. On the right hand wall of the front bar is a plaque dedicated to Con Houlihan and the 2nd snug in the same bar has a bust of the man illuminated above where the patrons sit.
The Bank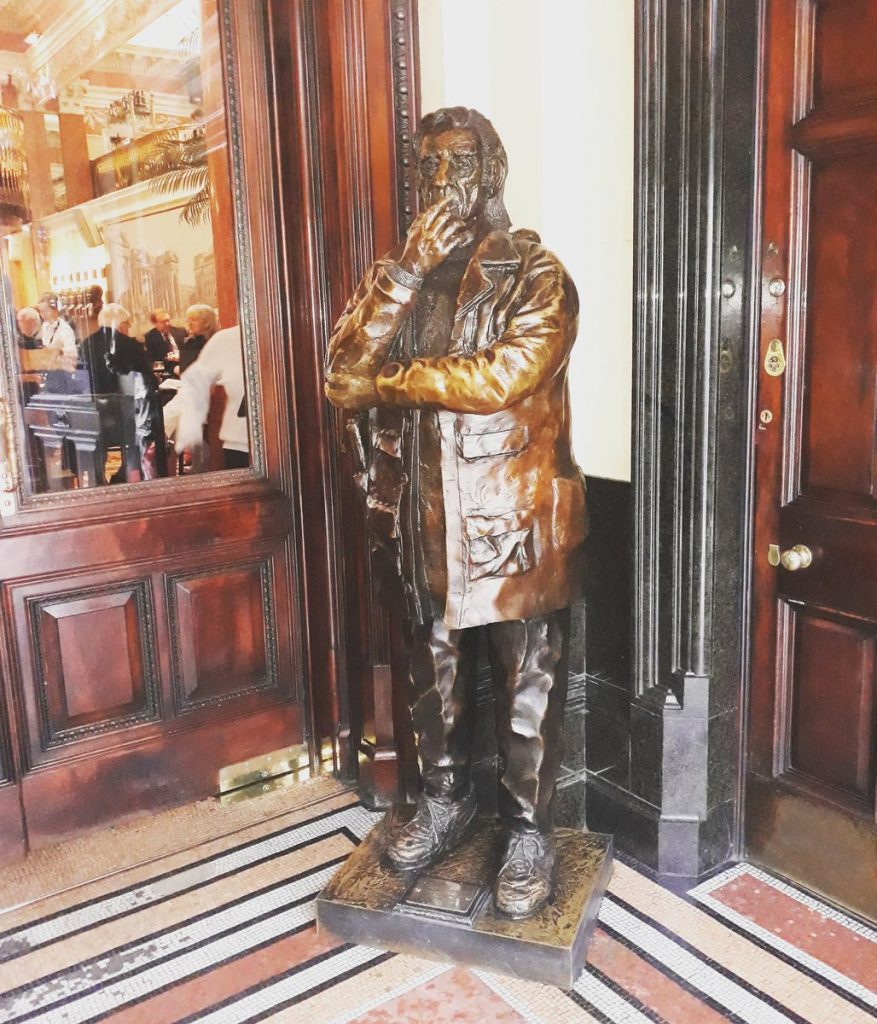 The Bank on College Green has by far the largest tribute to Houlihan. Upon walking through the entrance you're greeted by life-size statue of the writer.
Mulligans
Con Houlihan was such a regular in Mulligans of Poolbeg Street that he would apparently deposit some of his wages there every payday for safe keeping and make deposits. This was another pub regularly frequented by staff from The Irish Press. On the wall they have a photo of him.
The Dropping Well
The Dropping Well in Milltown also have a bust of Con. Thanks to Patrick for the photo.