From the chic and modern to the rustic and traditional, Dublin pubs have a lot to offer anyone who's looking for a venue to host their wedding or engagement party. Full dinners, finger food, and choices of drinks are all now standard in some pubs around the city, making them as attractive an option as a hotel or restaurant.
Here's a few options that might fit the bill for your big day.
The Old Storehouse
The Old Storehouse sits in a beautiful building in the heart of Temple Bar. Downstairs is O'Flaherty's bar, which has ample seating, a bar of its own, and a stage where they have live music. The have played host to wedding parties several times in the past.
They've got a full food menu for you to choose from, or you can opt to book the area for the afters. It's got a traditional design and you can't get more central than this really.
The Den Bar
The Raglan Room in The Den Bar on Baggot Street is a superb space for a large group to dine, drink, and dance. The room can hold 100 people seated and has a stage of its own for music and speeches.
Odeon
The Bourbon Bar in The Odeon is the perfect space for an elegant wedding or engagement party. They also have a beer garden that you can book in tandem with the Bourbon Bar if you want to have a private BBQ. The Bourbon Bar can cater for up to 200 guests for finger food or 65 for dinner. It's a beautiful old building and an excellent setting for a party of this sort. They have a whole section of their website dedicated to weddings at The Odeon. Link.
4 Dame Lane
Upstairs in 4 Dame Lane is known as The Loft. It's recently renovated in a eccentric design. This could be a good shout for an informal engagement party get together. The space can hold up to 200 people. They can organise finger food, DJs and anything else you might need. Link.
Doheny and Nesbitt
Doheny and Nesbitt is one of 16 remaining Victorian era pubs in Dublin and one of the most highly regarded traditional pubs in the city. Upstairs they have a floor broken up into 2 or 3 rooms that can be booked out together for larger events. This could be a great space for those who want to celebrate in a traditional Dublin pub. The pub does food and can cater for larger groups. You can see a breakdown of the areas available to book on their website. Link.
The Church
The Church is one of the most stunning buildings to house a Dublin bar. It's an exceptionally beautiful location for a wedding afters or engagement party. The Church is well known for its excellent food and can cater for larger groups for dining and dancing. They have a number of party packages including renting the Tower bar for up to 110 people, and the Cellar Bar for a larger group. Link.
The Hill
The Hill in Ranelagh is in the idyllic local setting of Mountpleasant in Ranelagh. For those looking for something low key and traditional, The Hill would be a very good option. The pub can be booked out in halves or the whole pub can be used for your event. They do excellent food, have a wide selection of gins, and great craft beer. It's a more informal option. Link.
Oscars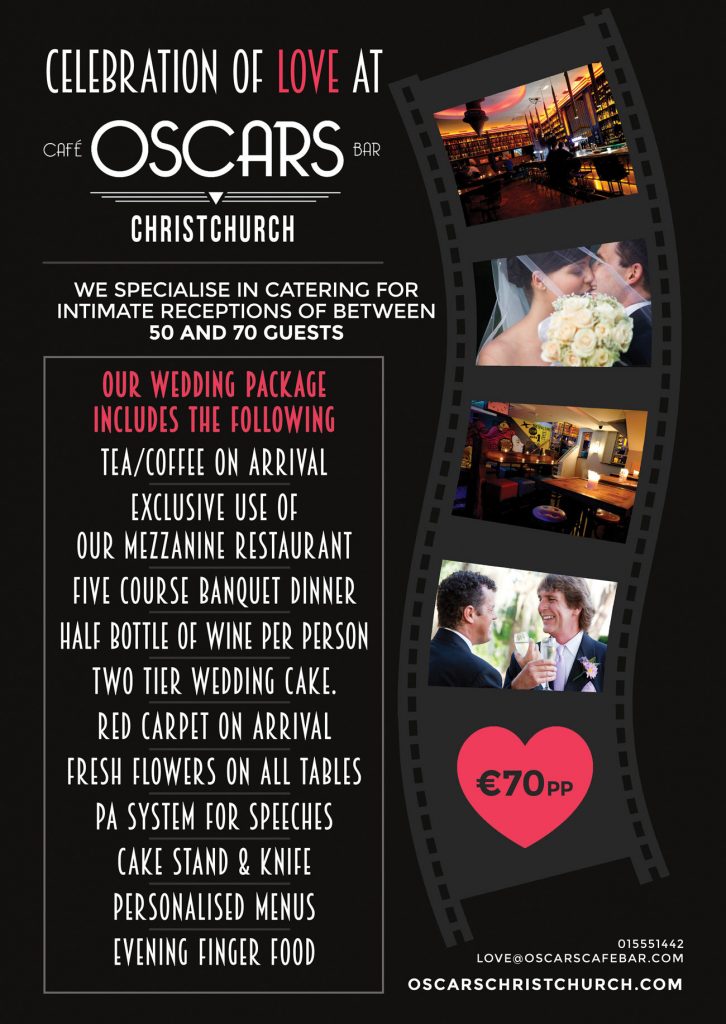 Oscars in Christchurch has played host to lots of weddings in the past with full tables on the ground floor and upstairs. They can seat 50-70 people for a meal or 200 people for the afters. They have a full wedding package including PA, drinks, 5 course meal, flowers, and finger food.
Kennedys
Kennedys Station downstairs in Kennedys of Westland Row is a hugely historical pub, having connections to Oscar Wilde, Ulysses, and Samuel Beckett. This would be an excellent space for a small afters or engagement party. They can cater with finger food and have a good selection of cocktails. Link.
The Waterloo
Upstairs in The Waterloo on Baggot Street is The Waterloo House, an area with a bar of its own and a private terrace. There's booths, high table seating, and lots of floor space. This would be a very good private area for an engagement party. They can organise finger food for your group. If you have a larger group you could take over some of the downstairs bar area. The terrace bar can hold BBQ's too if you want an outdoor flavour to your event. Link.