There's all sorts of nooks and hidden areas dotted around the pubs of Dublin. They're nice little hideaways from the crowds and offer a small bit of privacy for you and your friends while also giving you the comforts of the pub.
57 The Headline 'Snug'
The snug in 57 The Headline on Clanbrassil Street is a raised area with a long wooden table like you might find in an Irish kitchen. You can fit a few friends in here for food and some of the best of Irish beers, gin, and anything else you can imagine. You'll be surrounded by reminders of Independent Irish distilleries who specialise in gin, poitin, and whiskey.
Sweetman's mezzanine
Upstairs in JW Sweetman's on the 1st and 2nd floors they have what we've termed 'mezzanine' rooms. Up the stairs and to the right you'll find rooms slightly raised above the bar with tables and a surprising amount of space. You're cut off from the rest of the folk in this large multi-floored pub, giving you the feeling of having a party within a party.
The Old Storehouse Snug
Main bars with live music tend to get quite busy. Lucky then that The Old Storehouse has another, smaller room where you can your friends can go and make a bit of space of your own. The snug here has its own bar and even has a snug within a snug. They've a good selection of whiskey, a fine sup of stout and even a hatch into the beer garden area if you want to order a pint from out there too.
Kehoe's tiny room
Kehoes on South Anne Street is a labyrinth of rooms and floors and you'd be forgiven for not fully knowing the layout of the pub, especially when it's full. There's a room in the main bar with a really low ceiling (so low that's it's padded) with a table and space for maybe 4 people. It's a cross between a snug and Harry Potter's crawl space.
Bruxelles 'Philomena's Snug'
Nearly directly underneath Phil Lynnott's statue on Harry Street is a room dedicated to him and named after his mother. Overhead is a curved, green tiled roof, sloping down to walls covered in murals of the Thin Lizzy front man and photos of him out and about in Dublin town. We've fit 12 or so people in here before on our Phil Lynnott pub crawls and it's a smashing place for intimate drinks. Outside the room there's a jukebox where you can select any tune from the Thin Lizzy discography.
Jimmy Rabbitte's Snug.
Jimmy Rabbitte's snug is a great example of a modern snug in a newly built bar. The room has a private door, a hatch into the bar, 2 tables and ample seating. There's a window onto the street to let light in but a barrier to block anyone looking in at you.
The Rag Trader Front Room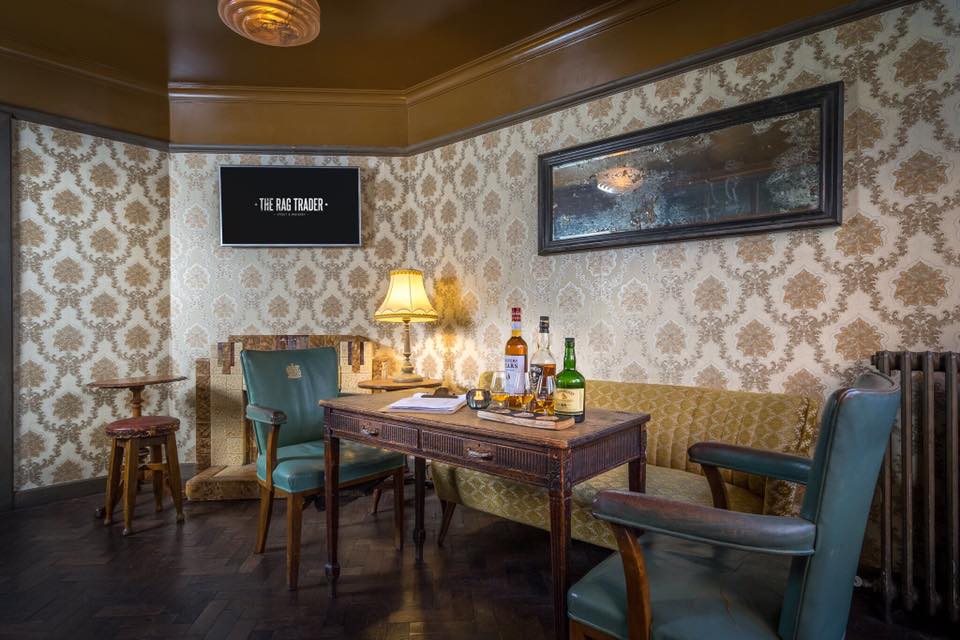 The front room of the Rag Trader mimics almost perfectly a 1980s Irish living room. There's the fireplace that would remind anyone of their childhood, the 'good chairs', an office room style table, and a retro couch. It's a nice space to book for a small gathering or party.
Doyle's Snug
The word snug will pop up a lot on this list we think. This 'snug' is a bit bigger than other rooms on this list, but sometimes your idea of what is small is a big bigger than mine. Doyle's in Phibsboro have a snug bar that's available for private hire. It's quirkily decorated with its own private bar, booths, lots of seating and you can get food here too. We wrote a whole article about the space here.
The Lord Edward Corner
Now this is a tiny, tiny area that's not exactly bookable for a party, but we feel it's worth pointing out. In the corner of the main floor of The Lord Edward there's a corner area separated by wooden partitions. This creates a little room within a room and cuts you off from what is a very open plan bar.
Street 66 back corner
The front room of Street 66 might feature in most of their doggy photographs, but it's a corner area in their back room that catches our attention. This U-shaped corner has beautifully upholstered seats around tables, forming a perfect gathering spot where everyone can take part in the same conversation.
Farrier and Draper Mezzanine
Farrier and Draper on South William Street is one of the most ornately decorated bars to have opened in recent years in the city. Upstairs above the bar is a mezzanine area where the DJ sets up that overlooks the main bar area. There's several tables, couches, and stools to take over and park you and your guests in comfort.