Even the most knowledgeable pub lover needs a bit of help finding somewhere overlooked or off the beaten track when looking for a new pub to try out. We've picked 6 pubs that we feel might get overlooked or aren't as widely known as they deserve to be that merit your attention and a visit.
Brannigans
Brannigan's is on Cathedral Street off O'Connell Street. Despite being just off our main street, it might escape the attention of a lot of Dubliners. Downstairs is a small bar with interesting stained glass features and a Dublin viking motif running throughout. As well as being a nice place for a quiet drink, they also serve good food. Try the fish and chips.
T.O. Brennan's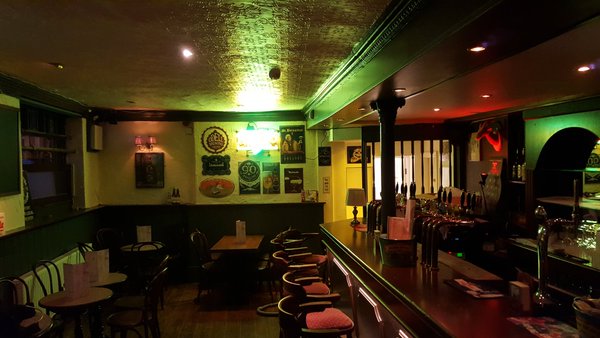 Brennan's on Dominick Street is a very nice little spot for craft beers, premium spirits, and good snacks. They do cheese and charcuterie here, as well as lovely olives. On a Summers day there's seating outside in their sun trap.
The Sackville Lounge
After a period of a few months closed, The Sackville Lounge on Sackville place (again just off O'Connell Street) reopened to much fanfare from devoted fans of the pub. Thankfully, not much had changed during the interim. It's a quiet and reserved spot with comfortable red upholstered seats, mirrors along the walls giving the impression of more space, and a good pint and toastie combo.
M Hughes
M Hughes has been a favourite of ours for a while now. There's actually a decent amount of space in here, making is sometimes easier to find a seat than other pubs. In the front room you can expect to hear a trad session, which runs most nights of the week. If it's not on in there, there'll be a few musicians in the main area playing and having a few drinks themselves.
It's a wonderful atmosphere in this pub, located behind the four courts.
The Barbers
The Barbers may be well known to some in the Smithfield/Stoneybatter/Grangegorman area, but we thought it was worth including in this list because it is tucked away off roads that most people would not have cause to travel down.
Near enough to the new Gragegorman DIT and only a 2-3 minute walk from Smithfield Square is The Barbers, a superb small pub with interesting decor (modeled as it is after a barber shop) and a charm unique to itself. It's a mecca for dog owners in the area and there's always a dog around to pet or play with. Take a look at their doggy wall of fame as you come in to see just how many dog regulars they have.
There's frequent events here (including a wildly popular pub quiz on a Wednesday), music, pop up food, and a decent selection of beers. It's a small pub but the way it's divided up makes it feel like you've got your own space and you're not on top of other groups.