Naturally, with this being Publin.ie, we're going to suggest a few options that involve the pub or alcohol based events for your work night out.
Make Your Own Beer! (And have a tipple while you do it)
The Artisan Brew Academy on Thomas Street offer a really inventive group activity in the form of making your own beer or wine. They'll take you through the whole process from malt to bottle in a fun way. You'll get to be involved in the process, pour your own beer, design a label, and bottle it.
The best part is that all the while they're very encouraging of you sampling 'here's one we made earlier' beers from their taps. You can drink as you brew (as all good home brewers tend to do) and at the end you can opt to take your beer with you and let it mature at home or leave it there on the shelf for collection at a later date.
You can find more details on their website.
Do a Pub Crawl
Naturally we have to give our own pub crawls a bit of a plug on this list. We offer private and bespoke pub crawls based on whatever criteria your group needs. We can organise to pick you up from a meal and then guide you around or work food into the tour.
We have a number of themed crawls such as live music, historical, haunted, and more, but we're also very open to creating something just for you. We usually visit 3-4 pubs over a 3 hour period starting whenever suits you. Contact us via publinpubcrawls@gmail.com or look at more details on the tours section of our site.
Dinner and a show in the Dublin Mountains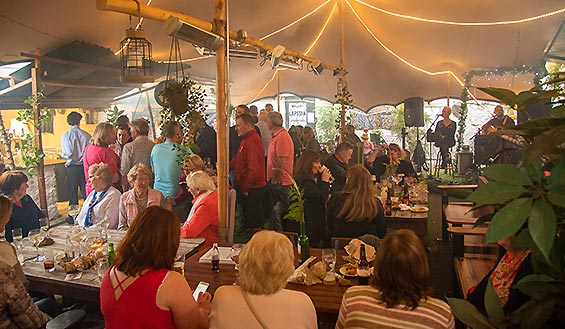 Johnnie Fox's pub in the Dublin mountains is famed as the highest pub in Ireland. They're also well known for catering to large and small private work and corporate events. They can organise a 4 course meal with a traditional music and dancing show, a BBQ and drinks reception (with optional live music), or private dining options can be organised.
It's a brilliant setting for a work night out with a bit of a twist. You can find full details on their website.
Take a cocktail making or spirits class.
There's a few of these operating around the city but we're going to focus on one pub that offer a wide range of tasting and making workshops. Lemon and Duke on Hibernian Way off Grafton Street does cocktail making classes and gin tastings.
Over an hour and a half you'll make 3 cocktails with interactive instruction from the bar staff. With the gin tastings, they have 3 menus to pick from with the gins from Ireland and abroad. For more details, see their website.
Visit a distillery
Several distilleries have popped up in the Liberties area of the city, renewing the long tradition of drinks production in the area. Most of the distilleries can provide private group tours with sampling packages for afterwards. These include Teelings, Pearse Lyons, and The Dublin Liberties Distillery.
Visit a brewery
If you're not quite up for the harder stuff, then maybe beer is more your thing. Try one of Dublin's craft breweries who now offer brewery tours or drinks offerings in their on site bars. Rascals in Kilmainham and Four Provinces in Kimmage both offer brewery tours. We've run some tours in conjunction with the 5 Lamps brewery and 57 The Headline in the past, so we can always run it by them if you're interested in a private tour of that brewery (though that's not guaranteed). Email us at publinie@gmail.com