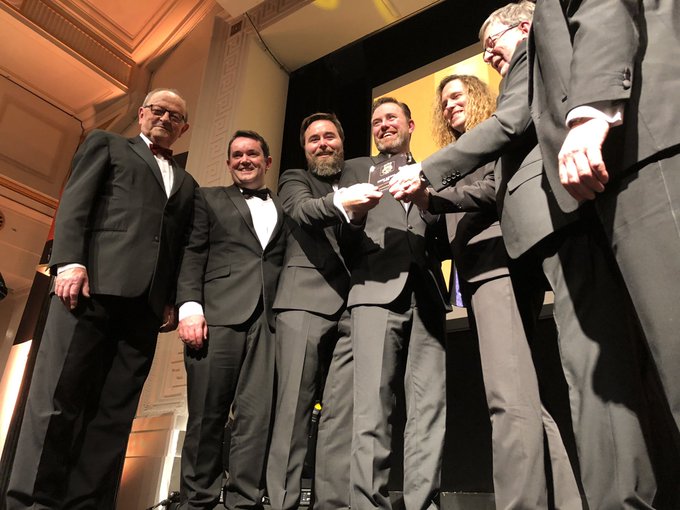 The biggest awards gala for the pub industry took place last night in the RDS. The Irish Pub Awards are organised by the 2 big pub organisations in Ireland, the LVA which represents pubs in Dublin and the VFI, which represents all those outside of the capital.
Earlier in the year, regional winners were selected in the 8 categories and these regional winners came to Dublin last night to find out who won the national awards. 2 Dublin pubs took home big prizes.
Harry Byrnes of Clontarf won the acclaim of their fellow pubs by taking home 'Best Local Pub. Harry's is a gorgeous pub with over 200 years of heritage behind them. Old as it is, it has moved with the times and offered their customers comfort, craft beers, and premium drinks as demands have changed. Who better to judge a good local's pub than the publicans of Ireland, and they have deemed Harry's the pub that best represents the values and qualities expected in a local pub. It's a community hub, a place to watch the match, and a source of pride for the people of the area.
They have a wonderfully thorough history on their website if you want to explore it more. Link.
Cafe en Seine last year underwent a massive renovation, enhancing one of Ireland's most beautifully decorated bars. They took home the prize of 'Best late night bar' at the awards. It's a jaw dropping bar and somewhere once you take your seat, you're unlikely to leave for the rest of the evening.
One of the bar's areas, their Street Garden, is a Parisian inspired conservatory style garden with a retractable roof. You can imagine being here, sitting out with the sun hitting your face while enjoying a glass of wine and some incredible food. Website.
We're very lucky to have a wide variety of fine establishments in Dublin city, typified by these 2 award winners. Congratulations to them both.
Here is a list of winners in other categories:
Best Food Pub- Murphy's Gastro Pub at the Derragarra Inn, Cavan
Best Tourist Pub- Malzard's Pub, Kilkenny
Innovative Pub of the Year- Paris Texas, Kilkenny
Outstanding Customer Service- Aunty Lena's, Adare, Limerick
Best Music Pub- Kavanaghs Bar and Venue, Portlaoise
Best Outdoor Space is The Courtyard, Cork
Best Newcomer goes to The Rusty Mackerel, Donegal
Irish Pub of the Year- Paris Texas, Kilkenny