You may have seen a map a few years ago designed by a guy named Eoin Whelehan. It was a map of Dublin's best toasties, with stringy cheese playing the part of the bridges over the Liffey. Well, he's back again with another pub related project that's really cool and inventive.
Introducing the 'Traditional pubs of Dublin scratch map'. Basically, you scratch off pubs on the map after you have visited them until the set is completed. Scratch if off over a lifetime or a long weekend in Dublin. Here's how Maktus, the shop selling the product describe it…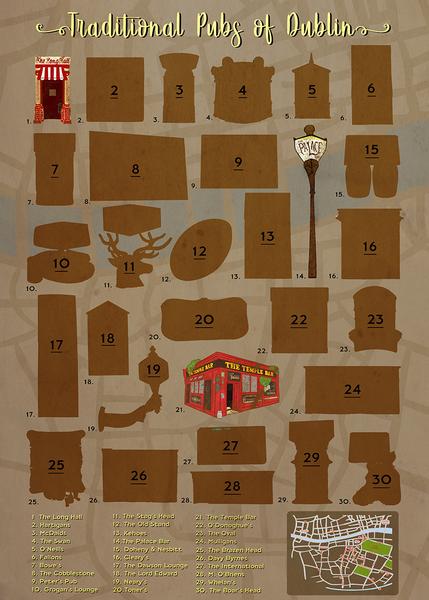 'We're very excited here at Maktus to officially launch our new and novel concept – The Traditional Pubs of Dublin Scratch Map. The basic idea behind the map is to encourage people to go and discover the essence of Dublin's most iconic Pubs. Once they experience the pubs for themselves, they simply scratch off a foil covering to reveal the hand drawn illustrations beneath. Designed in store and featuring 30 of Dublin's finest establishments; we believe that our Scratch Map of Dublin Pubs will make for a great gift or souvenir.
Maktus is a small independent shop in George's Street Arcade and they're also selling the map online.
It's a cool way to keep track of which Dublin pubs you've visited and makes for a decorative element on the wall. Get one for the pub or scratch card enthusiast in your life. Or just be kind to yourself and buy one for your own wall. At € 12.00 they're very reasonably priced.
If you get a kick out of the pubs scratch map, they've also got a craft brews of Ireland version too.
.