It's always a treat to get film footage of Dublin pubs from the past. We thought we had found all the examples there were of pubs used for scenes in movies but today we came across a film that was new to us. 'Girl With Green Eyes' was released in 1964 and directed by Desmond Davis. This was his directorial debut and the first of two adaptations of Edna O'Brien novels for the screen.
The IMDB synopsis for the film reads:
In 1960s Dublin a young girl becomes involved with an older man, a much-travelled and still married land-owner.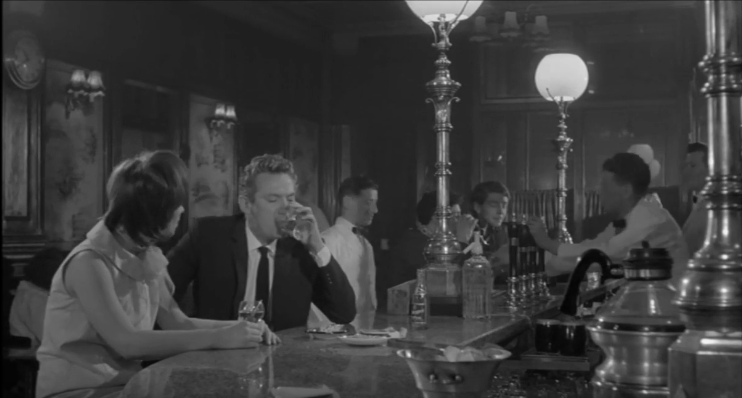 Downstairs in Nearys pub on Chatham Street is featured in one short scene of the film. In the scene Peter Finch (best known to later generations for his role in 'Network') and Rita Tushingham (who according to her IMDB is working as much now as ever) are discussing their attraction to each other and the possible consequences of this. Previous to this scene the pair are walking around Dublin, taking in Fred Hanna's bookshop on Nassau Street and the Wellington monument before walking back to Nearys. That amounts to a fair walk and a good deal of back tracking, but movies shot in Dublin are not known for the accuracy of their locations in montage scenes (see The Snapper).
Nearys looks much the same then as it does today, including the well dressed bar staff.
Nearys in the 60s was well known as a hangout for actors, located close as it is to the Gaiety Theatre. This may have played some part in the selection of the pub for the scene.
Incidentally, in the opening shot of the trailer it appears to be a young Mike Murphy and Pat Laffan waiting outside beside a car for 2 ladies. Link.