Dublin pubs like to celebrate famous or well known patrons that have graced the doors of the pub. Some for their talent in music, some in sports, and others for their contribution to the industry as a whole. We've collected a small sample of statues and busts on display in Dublin pubs. As always, if you know of any others to add to this list, please email us at publinie@gmail.com and we'll include it.
The Swan- Sean Lynch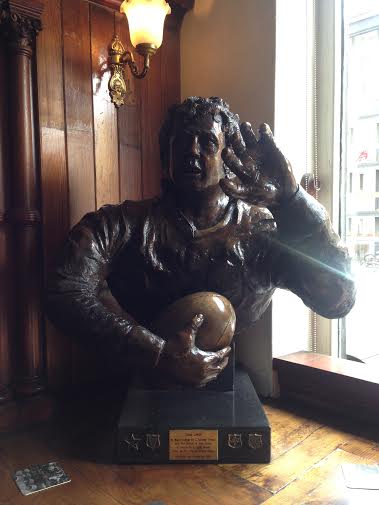 Sean Lynch once owned and ran The Swan on Aungier street. His son, Ronan, now runs it. Sean himself was a rugby player for St. Mary's, Leinster, Ireland, and the Lions. Some of his jerseys are framed and hung above the statue and in other areas of the pub. Since Sean's playing days the pub has been a home for rugby players and fans. The Irish rugby team used to come here for a pint before a match. That was before they turned professional. This bust was made by Hugh Hanratty, who also made busts for The Bank, The Goat, Gogarty's and The Dropping Well.
The Church- Arthur Guinness
The bust of Arthur Guinness in The Church on Jervis street is not only an acknowledgement of his contribution to the drinks industry in Ireland, but also in recognition of the fact that he got married on this very site, in this very church in 1761. The Church maintains most of its original fixtures and is one of the most spectacular bars in the country.
Cumiskeys- Ronnie Drew and Luke Kelly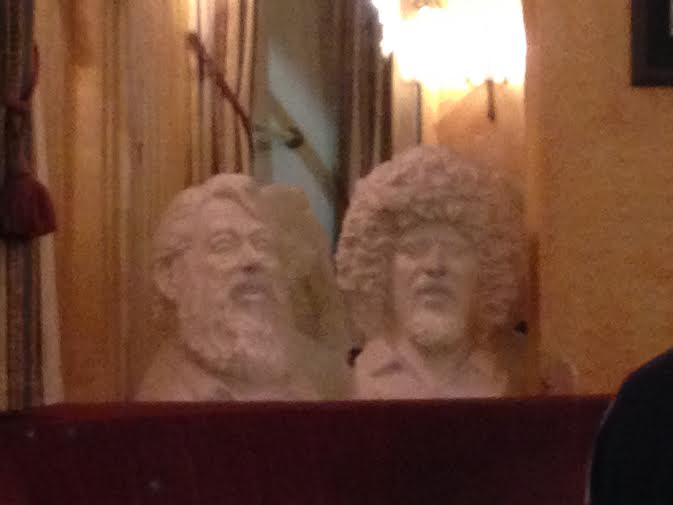 We're big fans of Cumiskeys pub on Dominick street. It's a very traditional kind of pub, with lovely bar staff, and pleasant patrons. In the lounge area to the left as you walk in they have busts of Ronnie Drew and Luke Kelly. They're both in good company, as this place feels like a very Dublin pub.
The Palace- Con Houlihan
Con Houlihan was a renowned Irish sports writer for The Irish Press and known to take a drop on more than one occasion in more than one location. He used to move around a lot. He actually kept some of his money in Mulligans on Poolbeg street, using it as a bank. The Palace is one pub that he was known to frequent and enjoy, having as it did a reputation among journalists.
Searsons- Sean O'Casey
Bruxelles- Phil Lynott
Although not strictly inside the pub, it is the reason why Phil Lynott's statue is placed here and not elsewhere in the city. Bruxelles always had a rock bar in the basement, and it was a favourite hangout of the Thin Lizzy front man. The bar take great pride in having the statue outside the bar.
Whelans
In the venue bar in Whelans there's a statue sitting at the bar. How many times have people apologised for bumping into him , only to realise he's not real? We're told that his name is apparently Emmett, but we're not sure if he depicts anyone in particular. There's a riddle to get to the bottom of. He's definitely been there quite a while. The above picture is from a guide to Dublin pubs from 1990.
The Bank
The Bank has busts of signatories of the proclamation of the Irish Republic. There is also a bust of Michael Collins in their private dining room. We believe that these were done by artists Hugh Hanratty.