O'Sheas, Talbot Street
O'Shea's on Talbot Street have a brand new beer garden that looks the business. They've got a bar, plenty of seating, cool design features that echo rural Ireland, and a screen for matches.
The Barbers, Grangegorman
At the front of The Barbers there is a cul-de-sac in which you can bring a few seats (within a certain area) and have yourself a drink. The spot gets quite a lot of sun and if the stools are gone, there's plenty of standing room and kerbs to sit on. It's also dog friendly, so you can enjoy a bit of sunshine with the pooch.
Oscars, Smithfield
Oscars in Smithfield square has an area at front where you can sit outside, eat, or drink. It's versatile for both Summer and Winter.
Bonobo, Church St
Bonobo is a new pub on Church Street. They have a decently sized beer garden that looks to get a good deal of sun.
The Church, Mary St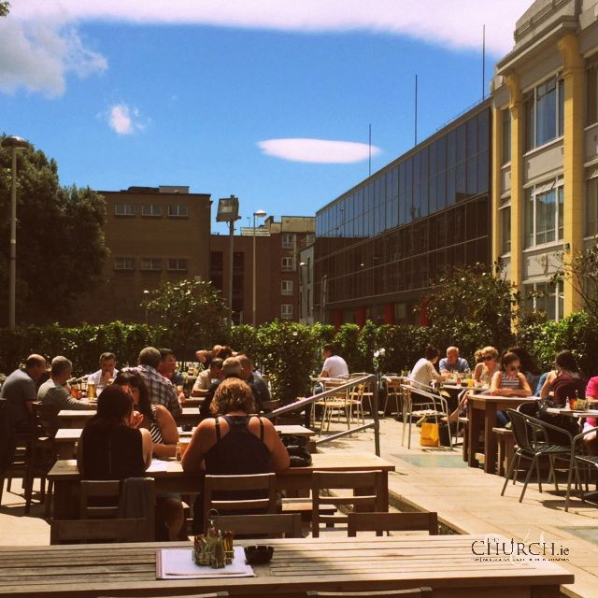 The Church has one of the biggest and best beer gardens in the city. It gets sun on multiple sides and has lots of seating. Enjoy bar bites, a full meal, cocktails, wine, or a beer in this fantastic spot.
Delaneys, North King St
At the back of Delaneys on North King Street is a hidden gem of a beer garden. Though some of it is now under a canopy, it's still a great spot during the summer for a drink. They have a TV outside for sports and you can nab a toastie if you're hungry.
L Mulligan Grocer, Stoneybatter
At the back of this long craft beer and food pub is a small but pleasant beer garden. Try a local cider out in the sun.
Kavanaghs, Aughrim St
It'd be a lie to say the beer garden in Kavanaghs on Aughrim Street is a sun trap, as it's mostly covered. It's still a good option if you want to be outside when it's warm but not in direct sunlight.
The Belfry, Stoneybatter
To the right and front of The Belfry in Stoneybatter are seating and tables, accompanied by a rotating food truck of burgers, pizzas, and other food. It seems to get quite a lot of sun and there's always competition for seats.
Tommy O'Gara's, Stoneybatter
Tommy O'Gara's has a mostly covered outdoor area to the back of the pub. During the day there are seats that get a bit of sun. Like Kavanaghs, it's a good spot if you want warmth but not direct sunlight.
The Glimmerman, Stoneybatter
The Glimmerman has one of the best gardens in the area. It's not huge, but there's a decent amount of seating. One big bonus of this area is the Vietnamese food truck that operates here on weekends. The food is great.
Wigwam
The outdoor space in Wigwam is up on the first floor and has a retractable roof. The toasties here are top notch and are best enjoyed with the sun shining on your face.
The Cobblestone, North King St
The Cobblestone's outdoor area has a steel sheeting canopy with patches on sunlight at either end. It's a pleasant crowd that comes here and an outdoor pint is always enjoyable.
The Living Room, Cathal Brugha Street
The Living Room has one of the biggest beer gardens in the city. They also have an outdoor bar and lots of screens showing whatever big sporting event is on.
The Parnell, Parnell Street
Up on the roof of The Parnell is a beer garden with a bar. It gets a decent amount of sun and offers the option of food.
The Back Page, Phibsboro
The Back Page might be the only pub on this list with a hammock!
The Hop House, Parnell St
The Hop House does some of the best and varied food in a pub in Dublin. It can be enjoyed in their beer garden out the back.
T.O. Brennans, Dominick St
Don't let its placement on this list fool you, T.O. Brennans is by no means bottom of the pile. The sun spot at the side of this pubs probably lasts longer than most in the city. They do cheese boards here, best paired with some Irish craft beer.