The Barge
The Barge on Charlemont Street overlooking the canal have a very nice traditional Irish Sunday Roast , complete with gravy, all the veg trimmings and their roast meat of the day.
The Church
The Church on Mary Street is a spectacular setting for a Sunday roast. Their food is well known as some of the best in the city and they have a great selection of wines and craft beers to accompany your food.
The 51
The 51 on Haddington road have a carvery that has been voted the best in the city on multiple occasions. On Sundays they have their roast option available. It's a good place to watch sport, so if you have a match in mind you've got the entertainment and the food sorted in this location.
57 The Headline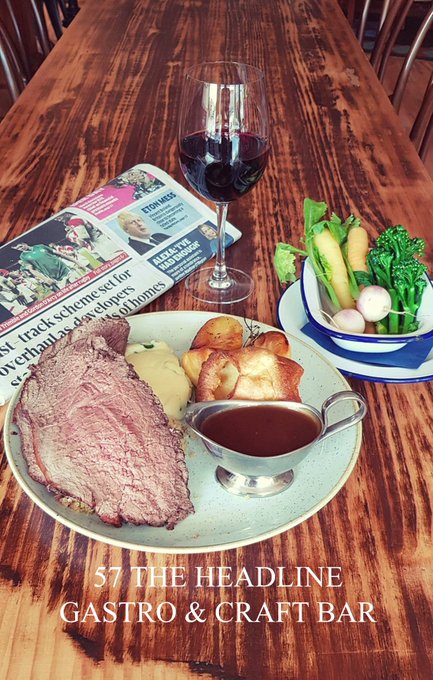 The Headline on Clanbrassil Street are very proud of their Sunday roast and the atmosphere of the pub in which you can enjoy it. They offer complimentary Sunday papers for you to read. All the comforts of being at home without the long cooking process. Pick one of around 20 craft beers that are on tap.
The Bank
The Bank on College Green do a superb looking Sunday roast. Much like The Church, this is an incredible building to dine in with no shortage of features to amaze you as you eat. Menu.
The Old Spot
The Old Spot on in Beggars Bush has won multiple awards as a great place in Dublin to dine, and their Sunday roast lives up to that high standard.
The Exchequer
The Exchequer do some great options for parties of 4 looking for a Sunday roast. They do a package of roast beef, rack of pork, or roast chicken, including all the trimmings and a bottle of wine. Menu.
The Legal Eagle
The Legal Eagle is a gastro pub with an excellent reputation. It was recently named by The Irish Times as one of the 100 best lunch restaurants, cafes, and bars in Dublin. At the weekends they have a 'roasted John Stone beef, Yorkshire pud, cauliflower rarebit, roasties, gravy'.