One element of design that can help to put a date on how long a pub has been open is the mirrors that hang on it's walls. There are mirrors in pubs that are 100 years and over old, making them extremely valuable and rare. Often times these are old advertisements for whiskey brands, some of which are still in operation. Unfortunately we don't have too much information on the origin or age of the mirrors in this article. It's more a reflection on how pleasant they are and what character they can give a pub.
There are of course further examples of impressive mirrors in pubs all over Dublin, but we simply don't have photos of some of them. If you have a photo of a mirror that should be included, please email it to publinie@gmail.com.
The Boars Head
There are 2 large mirrors at the end of the pub in The Boars Head on Capel Street. One is this superb custom mirror with the name and emblem of the pub, as well as the Hourican family name.
Toner's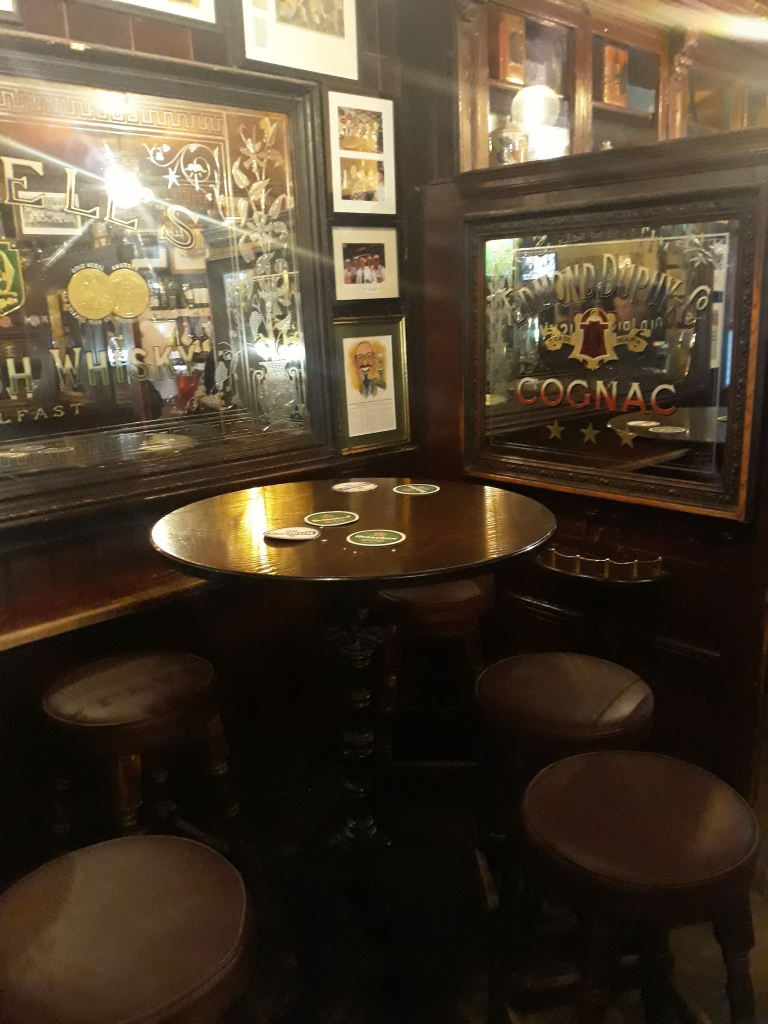 Toner's has a great collection of old whiskey mirrors in the main bar. These whiskey and cognac mirrors are surely of a very old vintage.
The Long Hall
The connection between this pubs and Powers whiskey goes all the way back to the founding of the distillery on nearby John's Lane in 1791. This mirror was installed in 1911. Powers gave the pub documentation from their archives during the 250 year anniversary of he pub in 2016.
The Palace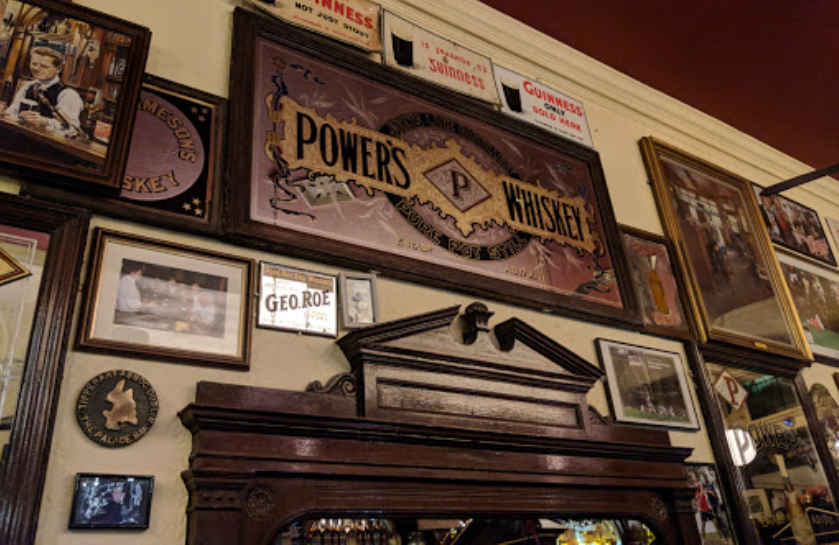 There's numerous mirrors dotted around The Palace Bar on Fleet Street, a pub these days well known for their Irish whiskey selection. Pictured above is an old Powers mirror. Just below that is a wood framed mirror that has a companion in the back room of the bar.
Ryan's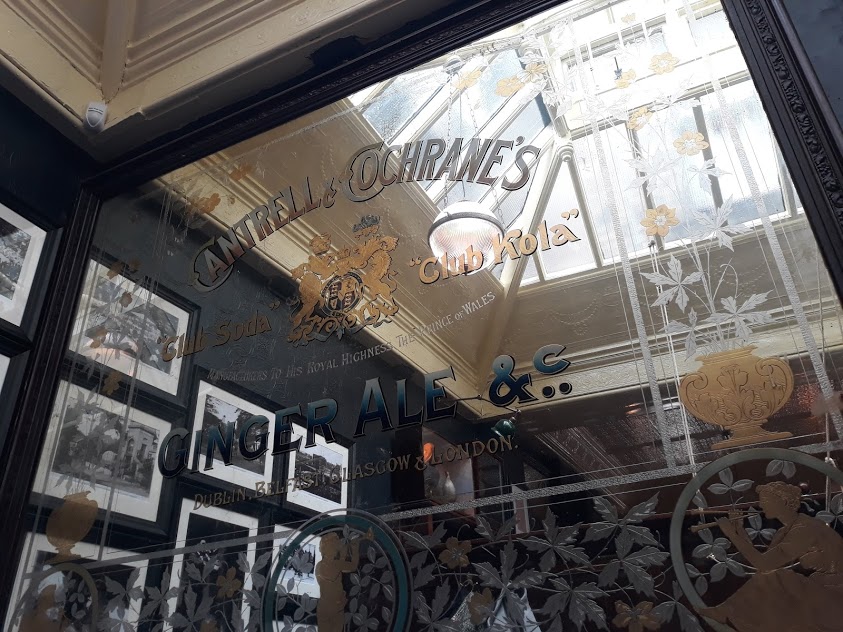 The snugs in Ryan's of Parkgate Street have some huge, old, and distinguished mirrors. This example in the left snug is actually for a ginger ale company, breaking the usual trend for whiskey and cognac.
Kennedy's
Kennedy's on Westland Row have a mirror with a replica of the old label that used to be on bottles of Guinness from a time when each pub bottled their own and had the name of the pub printed on them.
McDaid's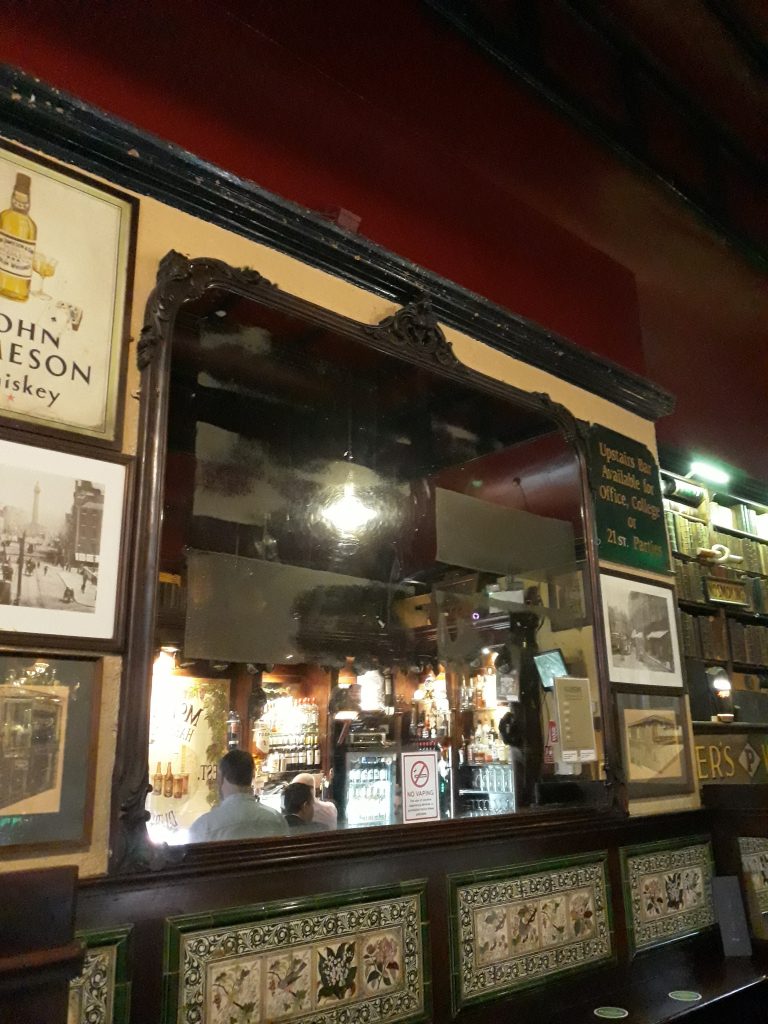 It's hard from this photo to get a sense of scale for this huge mirror in McDaid's on Harry Street, but it dominates the middle of the wall opposite the bar.