A number of pubs have decided to try to remain as active as they can by offering drink and food delivery and collection services. Obviously this isn't possible for everyone, but some pubs have decided that they'd like to keep busy while all of this is going on. Here's a list of options available to you to keep in touch with your local pub and to support them through a difficult time. As well as get delicious stuff into you belly of course!
We'll continue to add to this list as we find more pubs, so do let us know if you come across anywhere offering take away or delivery.
57 The Headline
From the announcement of the lock down Geoff and Maire in 57 The Headline on Clanbrassil Street have been delivering quality craft beer in their delivery area across the city. They've now expanded with the help of a courier service to nation wide. That's a great feat considering the short amount of time they had to plan and prep everything.
They're offering full cases of Irish craft beers from various breweries as well as mixed boxes of can from individual breweries. They're also delivering a range of red and white wines.
Not only that but they have a click and collect food takeaway menu. Order between 2 and 5pm and collections will be designated between 5 and 9pm.
Have a look at their website to see what's on offer. Link.
The Big Romance
The Big Romance have started doing draught beer deliveries via growlers. Growlers are reusable and refillable bottles with flip top caps. There's a deposit scheme of €4 on each growler. They've got a really selection of rotating Irish and International beers. They're also delivering cases of Whiplash, Gypsy Hill, and Lerbig beers at the moment.
Check out their website for full details on ordering.
The Two Sisters
The Two Sisters in Terenure have a great big meni that's available for take out. From Thursday to Saturday they're open 4.30-8pm and 2.30-7 on Sundays. It's some good hearty pub grub to keep you company. Website.
The Goat
The Goat in Goatstown will be open for a call and collect food service, including Easter Sunday.
Searson's
Searson's on Baggot Street are running a call an collect service on a good range of mains from their menu including leg of lamb, steak sandwich, fish and chips, wings, and more. A good shout if you live within 2k of this fine pub.
The Old Orchard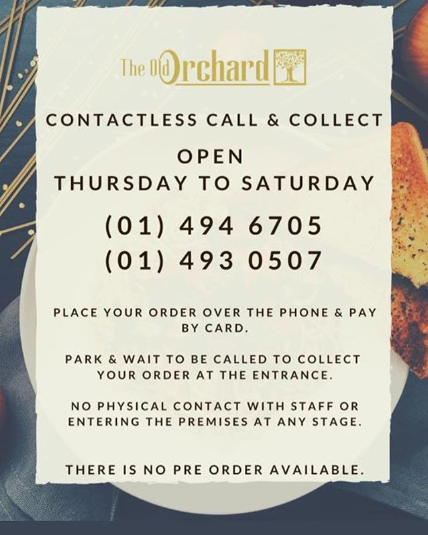 The Old Orchard, like their sister pubs, are doing a call and collect food service. Just have a look at their menu on their website.
Grainger's
Grainger's on Hanlon's Corner have been making headlines recently for offering a draught pint delivery service in the local area. There's not many doing that! They also offer a full off license service and freshly cooked meals. Check out their facebook page for most up to date info.
Frank Ryan's
Frank Ryan's are doing their delicious pizzas and wings to order via Deliveroo. Alternatively you can call and collect direct from the pub. They're really good pizzas. Ordering details.
Rascal's Brewery
It's a brewery and a bar! Rascal's in Inchicore are doing take out trays of beer and pizza, so you've got everything you need! Check out their web shop.
Patriot's Inn
Keep an eye on the social media for The Patriot's Inn Kilmainham as they'll be launching a delivery service this Saturday.
Whiplash
Whiplash Brewery are going into full production and are offering a delivery service via their website.
The Circular/Coke Lane Pizza
Coke Lane Pizza as well as generously cooking loads and loads of pizzas for front line staff are also taking orders for their delicious pizza from their home base in The Circular on the North Circular Road. it's stellar pizza. Link.
Urban Brewing
Urban Brewing in the CHQ building are operating a food and drink collection service. Food is from Wednesday to Saturday and Drinks are Tuesday to Saturday. Full details.
Kiltipper Cafe Bar
The Kiltipper are doing take out. You can see the menu above and find ordering details on their social media.
The Dropping Well
The Dropping Well in Milltown have a food collection service running. Link.
The Paddock's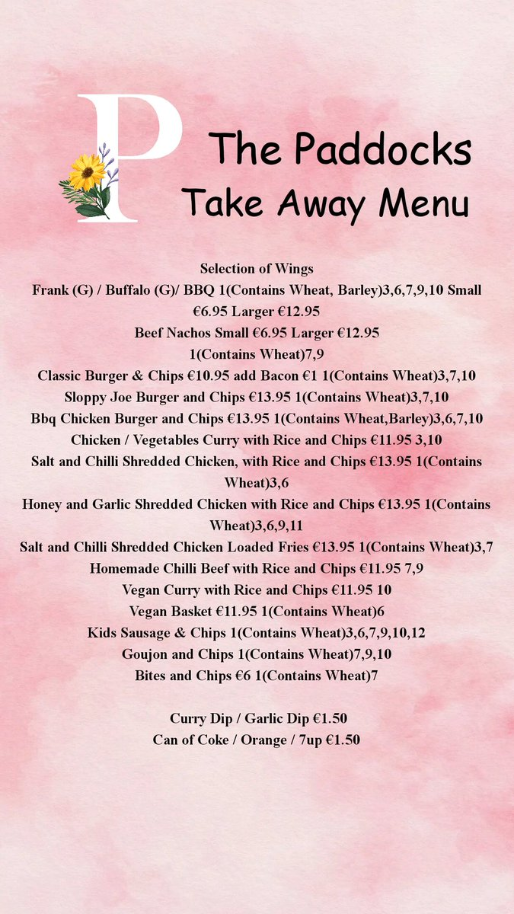 The Paddock's in Clonee are doing call and collection. Link.
White Hag
White Hag brewery are shipping their beers around the country via their web shop.
The Chophouse
The Chophouse gastro pub in Dublin 4 has plenty of fans of their cuisine, and lucky for them they can order for collection now. Link.
Peggy Kelly's/ D-Six wine beer and spirits
Peggy Kelly's in Harold's Cross have an Off License attached to their business and so are able to offer a drinks delivery service. Link.
The Four Provinces
The Four Provinces Pub and Brewery are delivering their beers from the Kimmage area. Go to their twitter and send them a DM to order.
Hop House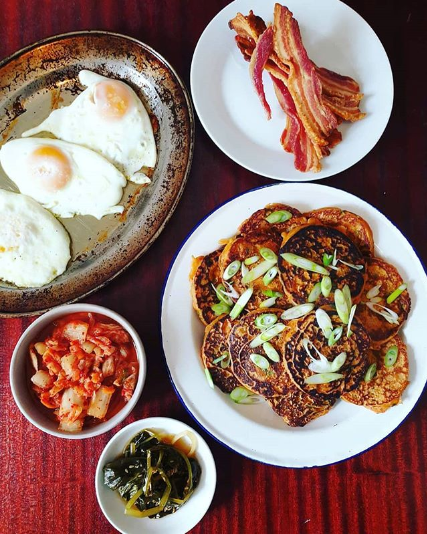 Kimchi Hop House are doing their exceptional Korean food for take away delivery or collection until 10pm.
Bar 1661
Little Britain Street's Bar 1661 are doing a range of their signature cocktails in very smart looking bottles for collection. A very fine idea if you've got the glassware to match it. Ordering details.
Woolshed
The Woolshed on Parnell Street are doing a collection only food service from 5-9pm daily. Order online.