The humble snug. An oft sought-after part of a pub, a nook with some privacy, and preferential treatment when it comes to getting served. They date back to the Victorian age when a private section was needed for priests coming in for an anonymous drink, for police looking to do the same, or for women who were coming in for a Gin and Tonic when picking up tea leaves and other assorted groceries from the multi-tasking bar.
Back in the Victorian era, with the state of medicine as it was, the threat of infection from a range of viruses and other ailments was surely a concern for all people and it's only natural that these concerns would work their way into the design elements of architectural planning. Is it likely that the private snugs and the partitions that separated people every few feet were not only for aesthetic purposes but also public health measures to ensure that separate groups would not mix and spread whatever they may carry as well as enjoying a degree of privacy and seclusion?
Function or fashion might be the question as to how these design elements arose and the answer may very well be…both. We only have to look to the recent changes made to pubs the length and breadth of the country in the wake of increased precautionary measures taken following the outbreak of Covid-19. The initial public health advice for pubs and businesses was to erect partitions between tables, spacing out patrons from one another. What could come more naturally to the pub?! After years of an increasingly more open plan pub, they are now returning (albeit reluctantly so) to a familiar pattern of division. We may call this the 'snugification' or 'resnugification' of Irish pubs.
Having paid visits to several pubs around Dublin city since many of them have reopened we were heartened to see that not only had pubs taken precautions so well but also that they had made these new additions look so good that in many cases they not only did not detract from the look of the pub but also added to it.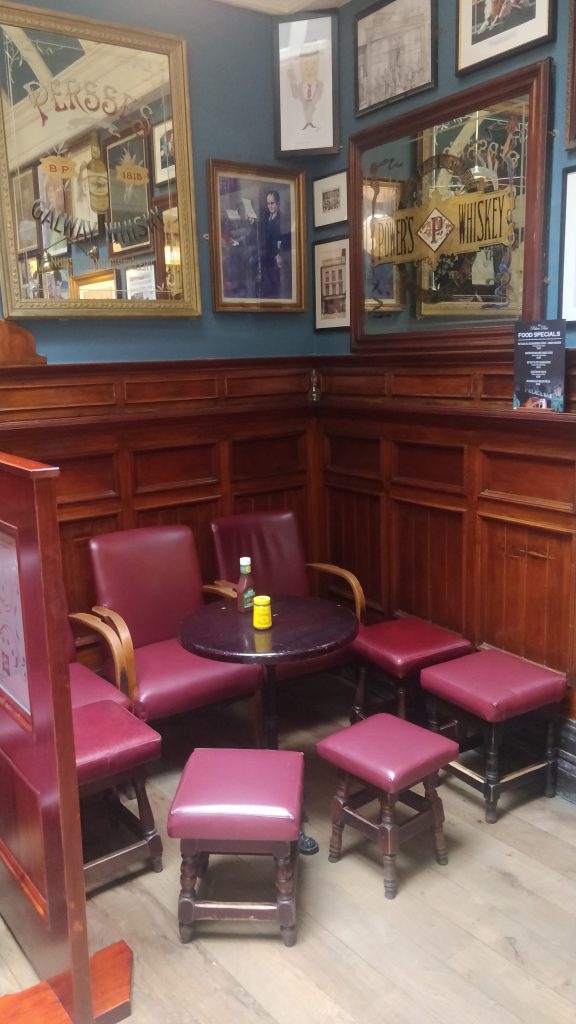 The Palace Bar on Fleet Street before covid had a room at the end of the bar that was open plan with multiple tables and seats where everyone could see all others in the room. Enclosed by walls decorated in a hundred years of paintings, sketches, and photographic depictions of sporting triumphs celebrated in the pub, and above, a fabulous glass window ceiling that wouldn't be out of place in an ornate chapel. The room's walls and ceiling still draw the eye and provide you with the same visual satisfaction, but now you and your party view them from a more enclosed snug-like booth. One of 5 or so such in the area. The Palace is a great example of how the new regulations can be adapted to suit the feel of the bar without feeling like you're having a pint on the inside of a plastic bag.
The yard in Toner's on Baggot Street has always had a good setup when it comes to table service, space, and separated seating. The area has been extended and the 'snugification' of the yard means that there's ample space for loads of small groups in a setting that feels comfortable and familiar. And that's the thing, these new snugs aren't so new to us. We're already familiar with the concept and we embrace it as part of our pub culture.
The theory that the snugs and partitions of a pub in 1890 have as much in common with the newly snugified pubs of 2020 might need some fact checking but the logic behind it seems reasonably sound. Although forced upon Irish pubs, this snugification is rather pleasant to look at and, with some refining, could be a classic design element of Dublin pubs that becomes mimicked by Irish Bars from Beijing to Baltimore in 50 years time.