Pubs have been taking the culinary initiative in many ways, from sustainably sourced fish for fish and chips, offering good quality and locally sourced produce, and also more and more vegan offerings. It can be hard to find vegan options around the city, so we're trying to make a little bit easier.
As with all of our lists, if you know a pub that should be on here, send us a message and we'll add it in. It's a small list so far, but it'll grow as we get more suggestions.
O'Shea's Talbot Street
One meal type that has been lacking for a few years is a vegan breakfast options. O'Shea's on Talbot Street offer a healthy vegan breakfast option with gourmet sausage, seasoned crispy potato, grilled tomato, and fried organic tofu.
Brewdog
The new Brewdog in Dublin's docklands as well as having an extensive beer menu have a decent food menu. It's mostly burgers and pizzas, and they've got vegan options on both. They've got a 2 for 1 deal on any vegan or veggie main on Monday's. They serve beyond meat burgers, as well as seitan steak, and buffalo cauliflower burgers.
The Paddocks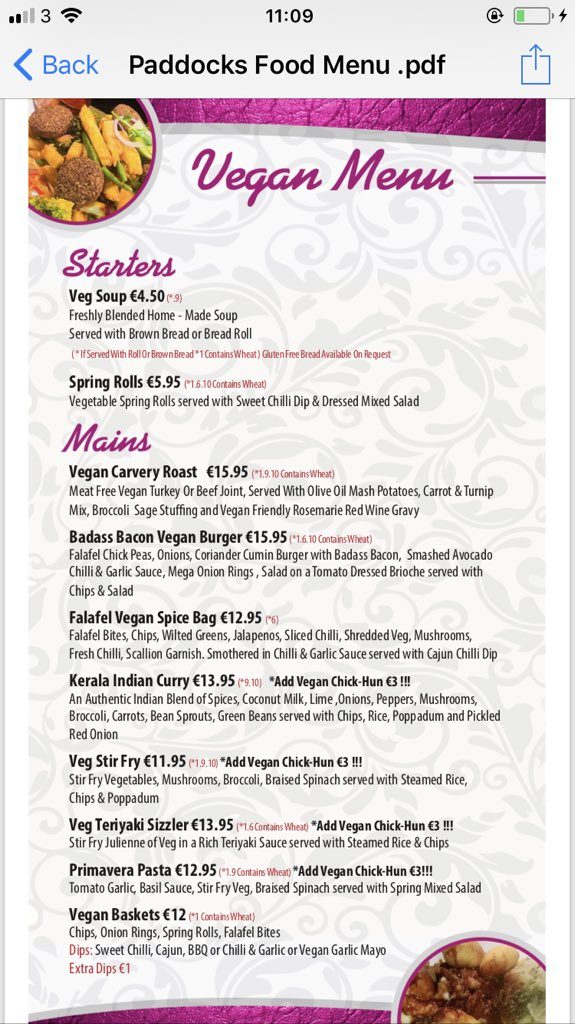 The Paddocks in Clonee are ahead of the curve with regards to vegan options, especially for a suburban pub. They have a full menu of vegan options including a carvery roast, stir fry, burgers, falafel spice bag, curry and pasta. It's quite an extensive menu. This option is also available in their sister pub, The Kiltipper Cafe Bar.
The Big Romance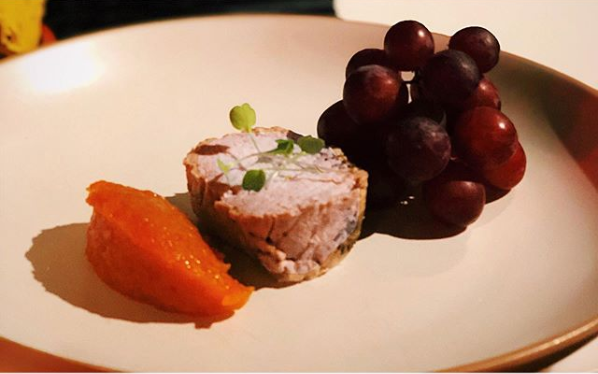 The folks at Chew Food who do the food in The Big Romance on Parnell Street have put together a vegan cheese board. The option changes monthly. Pictured above is the vegan take on Chévre, which they describe as tart and zesty. Served with a sweet ginger and carrot preserve and vegan crackers.
The Black Sheep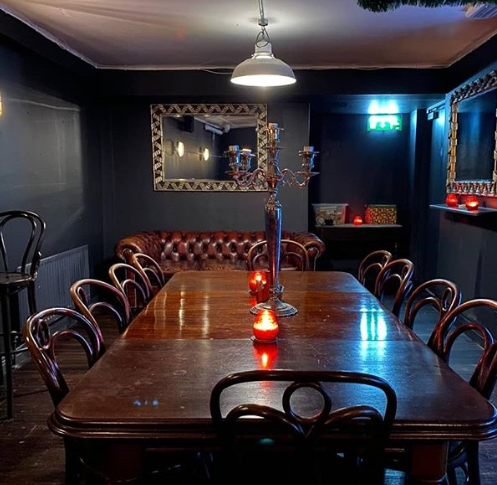 You can get yourself a hearty vegan red lentil chilli in The Black Sheep on capel Street. The menu's in Galway Bay pubs are usually similar, so you should be able to get this or another vegan offering in their other pubs, including Against the Grain, The 108, Gasworks, The Beer Market, and more. They've also got vegan options for party platters.
The Glimmerman
Here's another Stonebatter option. There's a Vietnamese food truck out in the beer garden of The Glimmerman from Thursday to Sunday serving up some delicious vegetarian and vegan food. Our favourite is the beautiful courgette and aubergine tostada. Link.
Token
Token on Queen Street have a range of vegan options including vegan chilli, slider burgers, tacos, nachos, mac'n'cheese. They've got some really good options. Check out their menu.
Peruke and Periwig
Peruke and Periwig on Dawson Street have some vegan options including chipotle and mixed bean chilli and gnocchi. These are 2 options they've tweeted about recently but there ma be more. Menu link.
Xico
Xico have the Incan Primavera dish with quinoa, sundried tomato, pea, and broad beans. Menu.
The Back Page
The Back Page in Phibsboro are known for their pizzas, and they've got a vegan option called 'The Stephen Kenny'. It's got toppings of spinnach, roast veg, cashew nuts, cherry tomato on vegan pesto.
The Hop House
The Hop House on Parnell Street has some of the best food you're likely to get in a pub in Dublin. A brief look at the menu would suggest that there are quite a few vegan options on the menu. Of course, check first, but items like dumplings, and certain types of noodle dishes look vegan friendly. Menu.
L Mulligan Grocer
Mulligan's in Stoneybatter gets featured in publications from around the world for its food offering and they inform us that they also have a vegan menu.
Drop Dead Twice
The folks in Drop Dead Twice on Francis Street inform us that on their evening menu the have the 'Fun-guy' pizza and cauliflower wings, and on the brunch menu there's cajun mushroom bruschetta and smashed avocado on toast. Link.